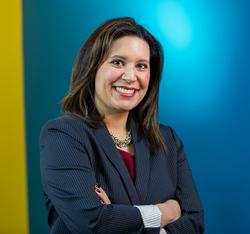 As Viewpoint intensifies our focus on enhancing operations and improving our product innovations and customer value, Jennifer will help provide the guidance and foundation for sound management and growth
Portland, Ore. (PRWEB) January 26, 2016
Viewpoint Construction Software® welcomes Jennifer Allison as General Counsel, working in Viewpoint's Portland headquarters.
With extensive experience in both employment and business law, Jennifer specializes in fostering a business ecosystem that strengthens an organization's work environment in tandem with supporting a high-growth agenda. Most recently, she was General Counsel for Tripwire and was known for achieving results in a fast-paced, high-volume environment, providing solutions-oriented legal advice.
"Jennifer is a strong leader, has a passion for technology companies, and partners well with teams across organizations to help ensure business objectives are met," stated Manolis Kotzabasakis, Viewpoint's CEO. "As Viewpoint intensifies our focus on enhancing operations and improving our product innovations and customer value, Jennifer will help provide the guidance and foundation for sound management and growth."
About Viewpoint Construction Software
Viewpoint is a provider of innovative construction-specific software solutions to the global construction and capital project industries. Viewpoint provides the tools they need to improve project profitability and visibility, manage risk, and effectively collaborate with the entire project team. Viewpoint solutions include everything needed from preconstruction to construction and facilities maintenance, and are offered on a variety of platforms, including Cloud, Mobile, SaaS and On Premises. Headquartered in Portland, Oregon, USA, and with offices in the UK and Australia, Viewpoint has become the technology partner of choice, with customers located across the globe in more than 28 countries. These customers include more than 40 percent of the ENR 400, and over 20 percent of the ENR 600. For more information, please visit http://www.viewpoint.com.
© 2016 Viewpoint, Inc. dba Viewpoint Construction Software. All Rights Reserved. Viewpoint®, Viewpoint Construction Software®, Vista™ by Viewpoint, ProContractor™ by Viewpoint, Viewpoint For Content Management™, Viewpoint For Mobile™, Viewpoint For Projects™, Viewpoint For Field View™, Viewpoint For Estimating™, and Jobpac by Viewpoint are trademarks or registered trademarks of Viewpoint, Inc., in the United States and/or other countries. Other names and brands may be claimed as the property of others.