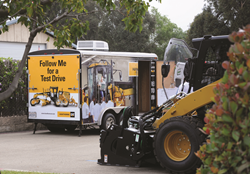 "In a tight economy, productivity can make the difference between profit and loss." - Ron Lyons, Hawthorne Cat Certified Dealer Instructor
San Diego, CA (PRWEB) January 25, 2016
Hawthorne Cat, the exclusive Cat® equipment dealer in San Diego, the Hawaiian Islands and the Pacific Region announces new Level 1 Operator training courses. Each course includes classroom instruction, simulator training, and hands-on practice with new and current models of Cat machines including Backhoe Loaders, Skid Steer Loaders, Track-Type Tractors, Excavators, Wheel Loaders, and Motor Graders. Ron Lyons, Hawthorne Cat Certified Dealer Instructor, will be holding the courses for entry-level equipment operators throughout 2016.
Mr. Lyons creates each course to improve operator proficiency and teach participants how to run the equipment the correct way. Topics include safety, maintenance, controls, and procedures. The curriculum provides a base foundation of knowledge and caters to entry-level operators interested in developing their job skills. Upon successful completion, participants will receive a certificate and verification card. Graduates from the course will return with improved productivity and enhanced safety skills that decrease downtime and reduce operating costs.
According to Ron Lyons, "In a tight economy, productivity can make the difference between profit and loss." Lyons adds, "Operators need to thoroughly understand machine systems and applications to achieve maximum efficiency and to provide a solid return on your equipment investment."
For a complete list of upcoming courses, visit the Hawthorne Cat website. For more information, contact Ron Lyons at 858.674.7047 or rlyons(at)hawthornecat(dot)com.
About Hawthorne Cat
Hawthorne Cat is the authorized dealer for Cat construction and power equipment in San Diego, Hawaii, Guam, Saipan and American Samoa. Hawthorne sells, rents, provides parts and service, training and emission solutions to various industries including general building construction, landscaping, marine, paving and power generation. For more on Hawthorne Cat, visit http://www.hawthornecat.com.