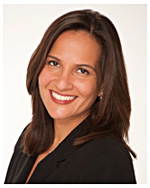 This honor is no doubt a reflection of the entire team at Omni Direct. I am truly inspired and so proud to stand for the tenacious, innovative spirit of our industry.
Miami (PRWEB) January 25, 2016
Omni Direct, the leader in U.S. Hispanic direct response marketing, announces that company COO Denira Borrero has been selected as the Member of the Year by the Direct Response Marketing Alliance (DRMA). More than 800 leaders participated in the industry-wide vote that recognized Borrero ahead of seven other nominees.
As a winner of this prestigious award, Borrero stands out as a leader who demonstrates passion and dedication to the discipline of performance based marketing and the industry as a whole.
"The direct response industry is in constant flux where creative ideas and risk-taking coupled with data driven agility is absolutely imperative to succeed and is what makes what we all do so exciting," said Borrero. "This award is a humbling yet inspiring reminder to me that despite the highs and lows, which are inevitable in such an innovative industry, that integrity, hard work and a relentless pursuit of bottom line results will pay off and be recognized over the long haul. This honor is no doubt a reflection of the entire team at Omni Direct. I am truly inspired and so proud to stand for the tenacious, innovative spirit of our industry."
Borrero maintains an ongoing relationship with Response Magazine to provide editorial contributions and is consistently collaborating with industry colleagues to learn more about current best practices and identify actionable industry trends. Her goal is to expand the U.S. Hispanic direct response market by sharing real-world data and executing on best practices to help clients quantify and realize the impact of Spanish language media on overall sales including digital and retail.
"Denira's work plays a key role in performance-based marketers taking advantage of expanding media and demographic opportunities. Her passion for the ideals of performance-based marketing – most especially in reaching the burgeoning U.S. Hispanic market – as well as her desire to educate and inform makes her a perfect recipient of this honor," says John Yarrington, publisher of Response magazine and co-founder of the DRMA. "Each nominee earned support from our voters and deserves tremendous recognition, but Denira's victory was clear and decisive."
Since 2011, DRMA has nominated member leaders and asked fellow DRMA members and their employees to cast their votes. Nominees are selected by the Response Magazine Advisory Board as well as past winners of the award and the DRMA staff. Borrero was honored as the 2015 DRMA Member of the Year at the DRMA annual event in New York City on December 8, 2015.
For more information about Omni Direct and Principal, COO, Denira Borrero, please visit http://www.OmniDirect.tv
About Omni Direct
Established since 1999, Omni Direct is the nation's leading U.S. Hispanic full service direct response marketing company. With the experience of launching hundreds of successful DR campaigns to the Hispanic market for Fortune 500 companies, DR industry leaders and entrepreneurs alike, Omni Direct uses a best practices approach to campaign set-up, launch and management. Offering services from strategic planning, creative production, and media planning, to managing call center operations, fulfillment and customer service; Omni Direct's focus is on delivering measurable and sustainable return on investment. The company prides itself on the quality campaigns, relationships, results, and reputation it has garnered in the industry.