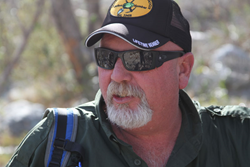 If we get the kind of events they're talking about, the flood gold is going to be incredibly good!
Temecula, Calif. (PRWEB) January 28, 2016
"El Niño's Golden Lining," is the cover story featured in the most recent issue of "Gold Prospectors" magazine. The article takes a look at El Niño and how heavy rainfall and flash floods are expected to replenish placer gold deposits in the American Southwest this winter.
With weather experts forecasting the strongest El Niño in half a century, the Gold Prospectors Association of America predicts a banner year for prospecting and mining in gold-bearing areas hit by heavy rainfall and flash floods.
Kevin Hoagland, the host of the GPAA-produced TV series, "Gold Trails," eagerly awaits auspicious prospects.
"El Niño is going to create a lot of opportunities because it's been so dry for so long, and what moves gold is water. So, as we start having flash floods and high water events as predicted, and the washes start to flow, areas that really haven't produced much gold in the last couple of years are going to start producing gold again. They will be replenished," Hoagland said. "That creates a perfect opportunity to get out with a drywasher once the floods are over."
Heavy rains and strong winds will cause massive erosion, including mudslides and flash floods with enough force to move sands, gravel, rocks and even large boulders, Hoagland said. As the water slows to a trickle, gold that has been unearthed will drop out of suspension in once fast-moving water and fall where it may, creating a layer of flood gold on or close to the surface. Then, as more rain occurs, the gold will begin to settle deeper into the damp ground, and wind erosion will move sand, either covering it or further exposing it.
"If we get the kind of events they're talking about, the flood gold is going to be incredibly good, which means you'll be working anywhere from the ground surface to only eight or 10 inches down, and those areas could be very, very productive," he said. "If it's a flash flood, the water comes through and the gold gets moved, but the water disappears almost instantly. It's gone."
In essence, with little to no water movement, the gold becomes "locked" in place, but during a flood the force of rolling rocks tumbling through the wash and the abrasion of fast-moving sands in the water will release the heavier gold and move it downstream. Naturally, the greater the volume and velocity of the water, the larger the gold and the further distance it will be moved until the water slows as the rain dissipates or the water pools behind a log or boulder, for example.
"I've worked patches of flood gold, where I've dug down maybe two feet and got a gram. But, after a major flood, I've taken the first six inches of dirt off and gotten an ounce. It just depends on how the gold moves," Hoagland said.
Though the desert rains are likely not far off, there is plenty a gold prospector can do in the calm before the storm, Hoagland said.
"I've got places in California where I'm just waiting for the flash floods to come," Hoagland said. "Patience. It's all about patience. And, right now, before the rains start is a great time to go out and look at different areas and start doing your prospecting."
"With today's gold prices hovering at about $1,100 a troy ounce, the age-old pastime of gold prospecting can still be a profitable endeavor depending on your skill level," said "Gold Prospectors" magazine Managing Editor Brad Jones.
"For beginners, the best way to learn how and where to find your own gold is by joining a gold prospecting club, such as the Gold Prospectors Association of America, the oldest and largest gold prospecting organization in the world," Jones said. "The GPAA will give you easy access to hundreds of GPAA mining claims across the United States."
A one-year GPAA membership covers your whole family and is a great way to get started for just $84.50. Membership includes your mining permit and access to GPAA mining claims, as well as the "GPAA Claims Club Membership Mining Guide" with hundreds of claims maps and directions, Jones said. It also includes a one-year subscriptions to both "Gold Prospectors" magazine and the "Pick & Shovel Gazette."
"Our local GPAA chapters are a great place to rub elbows with experienced gold prospectors who enjoy teaching newcomers how to find gold. Not only is gold prospecting an exciting activity, but it's a great way to spend time outdoors with your family," Jones said. "It's a fun, affordable adventure and there is always the thrill of knowing you could find a huge gold nugget, or even strike it rich!"
"Gold is where you find it, and so half of the art of gold prospecting is simply getting off the couch and heading outdoors to look for it," Jones said. "The other half is having a positive attitude, learning some basic skills and knowing your equipment."
For more information about how to and where to find your own gold, or to join the Gold Prospectors Association of America, go to http://www.goldprospectors.org.
To attend a GPAA Gold & Treasure Show and get a hands-on demonstration of gold panning with real gold and learn about all the latest small-scale mining equipment, go to http://www.Facebook.com/gpaagoldshows for show dates, venues and hours for the Spring 2016 shows. Register online and get half-off the regular $10 admission price at the door.