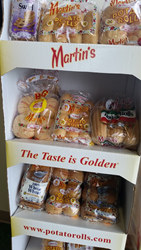 Franklin County Visitors Bureau is proud to welcome potato lovers of all ages to celebrate National Potato Lovers Month this February in Franklin County.
Franklin County PA (PRWEB) February 23, 2016
February may be the month for love but it's also National Potato Lovers Month, and Franklin County Visitors Bureau is celebrating its delicious potato products.
Franklin County is home to two potato-loving businesses--Bender Farms and Martin's Famous Pastry Shoppe. Both originated in Franklin County and both are dedicated to providing a fresh and flavorful product.
Bender Farms, a hometown and regional favorite, has been growing Chambersburg potatoes since the early 1900s. Available year-round, these potatoes are grown in shaley loam soil, which potato lovers say gives Benders potatoes a buttery taste. A key to Benders potatoes' flavor is freshness. A locally-grown product travels an average of 56 miles from farm to destination, according to the farm. Benders potatoes taste better because they haven't been shipped in and out of warehouses. They are fresher.
Martin's Famous Pastry Shoppe connects with potato lovers in a different way: potato rolls. These sweet, buttery, golden rolls come in all shapes and sizes: sandwich rolls, long rolls, dinner rolls, whole wheat potato bread, and cinnamon-raisin swirl potato bread, just to name a few. First made in the kitchen of Lloyd and Lois Martin in the 1950s, the business grew and they turned the family garage into a bakery. Today, the company ships potato rolls all over the world. Though Martin's has grown, the family and faith-based business is rooted in Christian beliefs. The company now employs more than 600 people, including bakery employees.
"Martin's mission is to bake the best products and provide the best sales distribution support while working together fairly and with integrity; whatever it takes, God helping us," said Julie Martin, social media manager for Martin's and granddaughter of Martin's founders.
In 2015, Martin's used just under 2.2 million pounds of potatoes for their breads and rolls, which have always had potatoes in them because they add "so much to the overall taste, texture, softness, and nutritional value of bread. Our use of potatoes, real milk, high protein wheat flour, and other high quality, wholesome ingredients is what make us special and sets us apart from other bread products," Martin said. "We're always striving for excellence in all that we do and produce."
Visitors can tour The Golden Roll--a museum about Martin's delicious products--which was built literally around the original garage in which Lloyd and Lois Martin began the company. A 1954 Dodge Coronet, the vehicle that Lloyd and Lois used to deliver their delicious baked goods to farmers markets, is parked inside, as if ready to continue selling the first products of sticky buns, cookies, pastries, potato donuts, and--of course—potato breads and rolls.
Franklin County Visitors Bureau is proud to welcome potato lovers of all ages to celebrate National Potato Lovers Month this February in Franklin County.
The Franklin County Visitors Bureau invites all to explore Franklin County PA and enjoy the trails of history, arts and architecture, recreation, natural beauty, fresh foods, and the warm hospitality of communities like Chambersburg, Greencastle, Mercersburg, Shippensburg, and Waynesboro. Franklin County PA is located just north of the Mason Dixon Line and is an easy drive to Washington DC, Philadelphia, and Pittsburgh. Discover more....plan a visit soon at ExploreFranklinCountyPA.com or by contacting 866.646.8060.