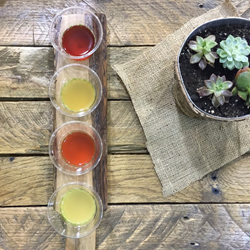 "It's all-natural and tastes great"
Indianapolis, IN Lafayette, IN (PRWEB) February 20, 2016
Nature's Pharm of Lafayette will be pouring fresh, local, healthy, Kombucha from their brand new Kombucha bar Friday February 19th, starting at 10am.
Kombucha (pronounced "com-BOO-cha") is a cold brew fermented green tea that comes in many flavors, and Kombucha bars are already a phenomenon in states such as California, Oregon, and Washington.
Matt Smith, co-owner of Nature's Pharm, explains that he is excited to bring something so unique to his store and to the Lafayette area with the new Kombucha bar. "It's all-natural and tastes great with reportedly, amazing health benefits. We know Lafayette is going to have a lot of fun stopping by our new bar, learning more and getting a taste".
The health benefits that Smith refers to regarding Kombucha are that it provides an energy boost, aids in the detox process, enhances mental clarity, and helps maintain probiotic health.
"It's brand new to most people," continues Smith, "but they started drinking it in Asia nearly 2000 years ago! So it's hardly some kind of passing craze".
Nature's Pharm customers will be able to get Kombucha in various sizes and can even use their favorite growler on return visits to the bar.
Smith says the Kombucha bar in Lafayette follows in the footstep of their recent opening of bars in their Greenwood and Castleton health food stores late last year. All three of these kombucha bars are the first and only of their kind in the state of Indiana.