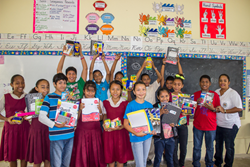 the joy I feel when these kids come and hug you and shake your hand to say thank you is hard to describe
San Ignacio, Belize (PRWEB) January 26, 2016
Belize's the Lodge at Chaa Creek has kicked off the new year with a delivery of school supplies donated by travellers under an innovative "Pack a Pound" program that engages guests with the local community, according to the popular Belizean eco-resort's owners.
Chaa Creek founding co-owner and GM Lucy Fleming said that Chaa Creek staff members made the first of this year's deliveries on January 19th 2016 to a Belizean school in San Ignacio Town.
"Thanks to the generosity of our guests, we were able to provide books, pens and pencils, art supplies, calculators, stationary, and other learning materials to needy students.
"The look on these children's faces, many of who come from rural families, was priceless. It's also very rewarding to see our guests so positively engaged with local communities, and we've been told that for many of them, one of the highlights of their Belize vacation was the chance to give something back to a developing country that gave them so much pleasure while they were here. Contributing to a host country is one of the more satisfying tenets of responsible tourism," Ms Fleming said.
Ms Fleming explained that she, her husband and Chaa Creek co-founder Mick and other managers conceived of the Pack a Pound project in 2008 as an offshoot of the "Chaa Creek Cares" initiative, which sees ten per cent of all room revenue going directly into environmental and social programs.
Over fifteen Belizean schools and hundreds of students have benefitted from Pack a Pound since its inception, she said, with guests, families and groups donating anywhere from one to over twenty pounds of school supplies.
"We designed it to be simple, easy and effective. Guests can add or substitute one pound or more of school supplies in their luggage, or post those goods through the mails when they return home. We then work with the schools to identify needs, and respond with appropriate supplies such as school books, arts and craft supplies, calculators, pens, pencils and other necessities," she added.
Pack a Pound is one of a number of responsible, or sustainable, tourism initiatives the Flemings promote.
"Since we opened Chaa Creek to travellers back in 1981, we've been impressed with how taken our guests become with the land and people of Belize, and we quickly found ourselves facilitating ways in which visitors could interact with local communities. We offer visits to organisations such as the San Antonio Women's Group and other artistic or cultural collectives to give our guests a deeper understanding of multicultural Belize and, overall, a richer travel experience.
"The enthusiastic response to Pack a Pound has been one of the more gratifying aspects of this," Ms Fleming said.
Responsible travel and sustainable tourism have characterised Chaa Creek's operations from day one, leading the popular Belizean eco resort to receive numerous awards and recognition from organisations such as Green Globe and the World Travel Awards, Ms Fleming explained.
Denise Duran, Chaa Creek's events coordinator who has been integral to Pack a Pound since its inception, said she wished the program's donors "could see the faces of these school kids when we show up at the school. It's almost like a second Christmas for some of them."
Another aspect of the program is that it fosters relationships and better understanding between students in North America and their Belizean counterparts, Ms Duran said.
"For example, The Global Citizens Club, a student organisation at the Heritage Middle School of Wake Forest, North Carolina, collected and sent some 26 pounds of new school supplies which we delivered to the Sacred Heart Primary School in San Ignacio Town. From what we're told, the North Carolina students learned a lot about Belize and what life is like for students their age here, while the Belizean students were overwhelmed by the generosity and caring of their North American peers.
"Developing and fostering better relations and understanding between people of different cultures is an integral part of responsible tourism and something we feel strongly about.
"For me personally, the joy I feel when these kids come and hug you and shake your hand to say thank you is hard to describe. It makes me feel so good knowing that I am part of this amazing program," Ms Duran said.
Ms Fleming said that the Pack a Pound project continues to grow and she expects that this year's donations will exceed previous years.
"It's something that makes everyone involved, from the donors, recipients, our staff and family, feel very good indeed. While Chaa Creek has a range of programs under the Chaa Creek Cares initiative, this is one of my personal favourites, as it brings people together and produces real, tangible results. Putting a smile on a school kid's face is a tremendous reward in itself," Ms Fleming said, adding that people interested in Pack a Pound can learn more by visiting Chaa Creek's website or contacting the resort directly or through their travel agent.
The Lodge at Chaa Creek is a multi-award winning eco resort set within a 365-acre private nature reserve along the banks of the Macal River in Belize.
ENDS