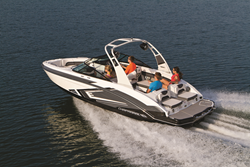 Chaparral has become the hottest thing going in jet drive runabouts. These Vortex models are exciting, comfortable, top performers and include the same luxury features boaters have become accustomed to in Chaparral's stern drive runabouts
South Bend, Indiana (PRWEB) January 24, 2016
Pier 33 and Chaparral Boats will be making a big splash this coming weekend at the Pier 33 display during the Michiana Boat and Sports Show at Century Center in South Bend, Indiana. Boat show attendees will experience two new boat models from Chaparral, plus a fresh introduction from Robalo Boats.
Pier 33 will again feature Vortex Jet Boats by Chaparral, with an eye-opening selection including the Vortex 203 VR, Vortex 223 VR and for the first time at the Michiana Boat Show, the Vortex 243 VRX.
"Chaparral has become the hottest thing going in jet drive runabouts. These Vortex models are exciting, comfortable, top performers and include the same luxury features boaters have become accustomed to in Chaparral's stern drive runabouts," said Pier 33 General Manager Tighe Curran.
The 2016 Pier 33 display will also include the unveiling of Chaparral's new 227 SSX, a high-end performance bow rider, powered by the new 250 HP version of Mercury's 4.5-litre engine and Bravo Three stern drive. The smallest of Chaparrals SSX series, the 227 will be equally at home on Lake Michigan or nearby in shore lakes.
Also new to this year's boat show is the Robalo R160 Center Console. Introduced by Robalo at the start of the 2016 model year, the R160 brings luxury center console features to market at an affordable price. "The R160 is packaged with a Yamaha outboard for performance and dependability and it's designed to offer the best combination of passenger comfort, stable ride, durability and ease of maintenance that you can find in a boat at this price level," said Curran. "Plus, it can be a great, versatile compact sportfish."
The Michiana Boat and Sport Show will be held at Century Center in downtown South Bend, IN. The boat show begins Friday January 29 and runs thru Sunday January 31. Boat show admission is $5 (kids under 12 enter free) and additional details can be found at at http://www.pier33.com.
Pier 33 is a full-service marina and boat dealer located in St. Joseph, Michigan. Pier 33 features a full selection of used boats and provides complete boat repair, dock and storage services to boaters from Michigan, Indiana and Illinois.