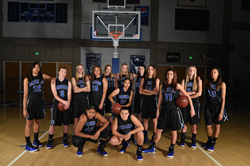 This team is by far one of the most athletic groups we've ever had and I think it's their length and their athleticism that first sets them apart.
Salt Lake City, Utah (PRWEB) January 25, 2016
From Oct. 30 until Jan. 7, the Salt Lake Community College women's basketball team went undefeated and was No. 1 in the National Junior College Athletic Association's Division 1 through four polling cycles—the team dropped to No. 4 as of the most recent poll. In prior seasons, the highest NJCAA rank for SLCC was No. 7. The 18-0 start to the 2015-16 season is the best in SLCC's women's basketball history, which dates back to 1987.
Before and after the team's only loss this season, SLCC has thoroughly dominated their opponents, winning games by more than 30, 40 and even 50 points and, after 21 games, had been averaging 73.6 points and 15.7 assists per game. The team is led by head coach Betsy Specketer, who in her 20th season at SLCC had a career win-loss record of 455-176 as of Jan. 23. This season's players are led by guards Tilar Clark and Monique Mills, who combined average 30 points per game. Mills and her identical twin, Dominique, are freshmen on the team and their father, Silas Mills, is an assistant coach for the SLCC men's team, which was 20-3 as of Jan. 15—the women's team was 22-1.
"This team is by far one of the most athletic groups we've ever had and I think it's their length and their athleticism that first sets them apart," said Specketer, who is assisted by Marcilina Grayer and Katie Fuller. "That length, quickness, and overall athleticism, especially on the wings, has given our opponents fits on the defensive end. And when we're able to turn people over defensively, that leads to transition points, which is another area where we've been very good all year. This team loves to defend and loves to run."
SLCC has four more home games and a total of seven more games in the regular season—after that is the Region 18 Tournament in Idaho in February and the NJCAA Nationals in March. For information about the team's schedule, visit http://www.slccbruins.com.
"The unbelievable success of our women's basketball team has a tremendously positive effect on our program," said Kevin Dustin, SLCC athletic director. "It instantly puts our entire college on the map nationally. Everybody loves a winner, and when you couple our success on the floor with our success in the classroom and in the community, it bodes well for the school."
Dustin predicts that many of the current players will transfer to high Division 1 programs, which will bring even more recognition to SLCC. In the classroom, the team annually posts a GPA above 3.0. "We constantly remind them that although basketball has been the means to their college experience, the earning of a degree is the end goal," Specketer said. For the hardwood, her philosophy is simple. "Recruiting never changes. From year to year, I look for players who I think will be a good fit for our culture and our system. Plus, I love kids who more than anything else just want to be a Bruin and show a willingness to work and buy into our program."
Salt Lake Community College is an accredited, student-focused, comprehensive community college meeting the diverse needs of the Salt Lake community. Home to more than 60,000 students each year, the College is Utah's leading provider of workforce development programs. SLCC is also the largest supplier of transfer students to Utah's four-year institutions and a perennial Top 10 college nationally for total associate degrees awarded. The College is the sole provider of applied technology courses in the Salt Lake area, with multiple locations, an eCampus, and nearly 1,000 continuing education sites located throughout the Salt Lake Valley. Personal attention from an excellent faculty is paramount at the College, which maintains an average class size of 20.