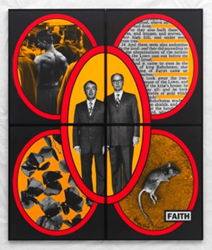 Düsseldorf's vibrant art scene is a feast for art lovers at any time of the year
Düsseldorf, Germany (PRWEB) January 25, 2016
Düsseldorf is the birthplace of some of the world's best contemporary art, has fostered some of the most high profile art careers, and many of the world's most famous artists are from here or got their start at the city's world-renowned art institutions. Düsseldorf's vibrant art scene is a feast for art lovers at any time of the year, and here the art and exhibit highlights for 2016:
Horst – Photographer of Style @ NRW-Forum Düsseldorf
A comprehensive retrospective of the German-born Horst P. Horst, one of the leading photographers of the 20th century who remains an important influence today. The exhibition, curated by the Victoria and Albert Museum (V&A), London, presents 250 photographic works spanning 60 years and includes iconic images from his time as a Vogue photographer, as well as lesser-known projects and rarely seen drawings, letters, films and couture gowns.
February 12 – May 22, 216; http://www.nrw-forum.de
Art Exhibit DIE GROSSE 2015 (The Big One) @ Museum Kunstpalast
The Largest Annual Art Show in Germany by Artists for Artists. For more than 100 years, this unique show has been a huge annual art world event in Düsseldorf. The exhibiting artists have been chosen by a jury of artists, and their pieces can be purchased right at the museum.
February 21 – March 13, 2016; http://www.diegrosse.de
Alberto Burri: The Trauma of Painting @ K21 Ständehaus
A retrospective honoring Alberto Burri (1915-1995), one of the most influential Italian artists of the post-war period. Burri departs from the two-dimensionality of painting by using tar, iron or plastic. Organized by the Solomon R. Guggenheim Foundation, New York.
May 3 – July 3, 2016; http://www.kunstsammlung.de
Henkel – The Art Collection @ K20 Grabbeplatz
Düsseldorf is home to Henkel Corporation's head office and its art collection, built over many years by Gabriele Henkel. The collection contains works from various cultural circles and genres and ranges from Classical Modern, 20th Century abstract art, to the art of foreign continents. The show contains a representative selection of the collection and is shown to the public for the first time.
April 9 – August 14, 2016; http://www.kunstsammlung.de
Jean Tinguely. Super Meta Maxi @ Museum Kunstpalast
An oeuvre of the Swiss artist Jean Tinguely (1925–1991) in an extensive retrospective presented in collaboration with the Stedelijk Museum, Amsterdam. Tinguely transcends museum boundaries with his kinetic objects, playful-absurd machines, as well as his theatrical large-scale projects, and has had a significant formative influence on the development of art and its physical appearance since 1945.
April 4 – August 14, 2016; http://www.smkp.de
Andreas Gursky – Not Abstract @ K20 Grabbeplatz
Since his early years, Gursky has described some of his works as "abstract pictures" and adorned them with special numbering in Roman numerals. This series of works is continued in his latest pieces and can be seen at "Dialog mit Bildern" (Dialogue with Pictures).
July 2 – November 6, 2016; http://www.kunstsammlung.de
Horst Wackerbarth – Heimat @ NRW-Forum Düsseldorf
Since August 2014, the photo artist Horst Wackerbarth has been traveling with his red sofa all over North Rhine-Westphalia, producing portraits of themes, people and places that are typical of the German federal state. Alongside these new works from the "heimat.nrw" project, supported by the NRW Foundation, the exhibition – staged as a retrospective – also presents some of Wackerbath's older, previously unseen works.
September 17 – October 23, 2016; http://www.nrw-forum.de
Cloud and Crystal – Jackson Pollock Meets Bruce Nauman @ K20 Grabbeplatz
One of the greatest upheavals in the history of 20th century art was the rejection of the picture. Concept art took the place of painting. More than 200 works by Carl Andre or Sol LeWitt are contrasted with works by Jackson Pollock, Robert Rauschenberg and Andy Warhol to demonstrate this transformation.
September 24, 2016 – January 8, 2017; http://www.kunstsammlung.de
Before the Curtain, Behind the Veil. Unveiling and Veiling since the Renaissance @ Museum Kunstpalast
The exhibition is dedicated to the motifs of "veil" and "curtain" and to fundamental questions around painting and visual art: What do we get to see in the picture? What does it conceal? The interplay between showing and hiding is showcased in the high-caliber loans from international museums – from Titian to Rubens to Gerhard Richter, and with paintings ranging from the Renaissance and Baroque to Modernism and the present day.
October 1, 2016 – January 12, 2017
For more information on Düsseldorf's art and cultural highlights, please visit: http://www.duesseldorf-tourismus.de/en/art-culture/
Düsseldorf's tourism office is offering hotel and city specials for art-related stays and other visits in 2016. Packages can be booked right from the tourism office's website at http://www.visitduesseldorf.de/hotelpackages. Prices start at €70.00 per night per person based on double-occupancy for a 2-3-star hotel in the city center. The packages include breakfast, one DüsseldorfCard (free public transportation within city limits plus 30 free or reduced admissions to city attractions), and a museum admission ticket. Please check the website for current information. Düsseldorf's tourism office also offers guided tours for art enthusiasts.
# # #
Düsseldorf Marketing & Tourism GmbH is the visitors and convention bureau of the city of Düsseldorf. Its responsibilities include tourism and city marketing, as well as conference and meeting marketing, hotel reservation services, fairs and convention services, city event ticket sales and advance ticket reservations. For more information, visit http://www.visitduesseldorf.de.