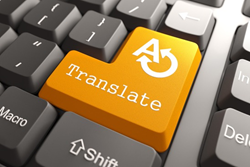 While MT is far from replacing human translators altogether, it is a valid translation method that is definitely here to stay.
Fort Worth, Texas (PRWEB) January 26, 2016
Over the last decade, technology in foreign language translation has made great strides. Long gone are the days when translators were researching words and phrases in a hard copy of a dictionary. Today, just about any translation solution uses some kind of a technology.
One of the buzz phrases of the translation industry is Machine Translation. Machine translation (MT) is simply translation that is automated. It is a process that uses computer software to translate text from the source language (such as English) to a target language (such as Spanish).
Businesses often wonder if machine translation could be used to reduce or even eliminate their translation cost, how reliable it is and whether it can completely replace translation produced by individual translators and translation services providers.
Here are answers to some of the most frequently asked questions:
1. What are the basic types of machine translation?
Machine translation is either based on statistical methods or rule-based methods. Google Translation and other free online engines use statistical methods for substituting words with the most frequently used words across a volume of text found on the internet. Statistical MT produces largely unpredictable translation quality, does not "specialize" well in a particular domain and does not know grammar. Rule-based MTs rely on built-in linguistic rules and dictionaries. Compared to statistical MTs, rule-based MTs are of a more consistent and reliable quality, can have focus on a particular domain and are more reliable in terms of grammar.
2. Is computer-assisted translation the same as machine translation?
Translators frequently work in a software environment that helps them with consistency and speed of translation. This is often mistakenly described as machine translation. The major difference is that all translation is done by a human translator while the software tool only "remembers" and suggests previous solutions used with the help of a translation memory (TM). The translator still has complete control over the result.
3. What is post-editing?
Post-editing is the process by which human translators edit the machine-translated content. This process focuses on checking adequacy – the degree to which MT captures the meaning, and fluency – the degree to which the machine translation is grammatically correct. Due to the vastly increased quality of machine translation with post-editing it is recommended to include this step for any translation that will be made public.
4. What types of content can benefit from machine translation?
In commercial applications, MT will lag behind in case of any type of nuanced or business-critical content such as advertising, marketing, web content, and similar. If an emotional response is expected from the reader, MT should not be used. Content that does well for MT is repetitive and of large volume with relatively clear and simple sentences. Examples include procedures, engineering reports, knowledge bases, emails, customer support documents, online help, tool catalogs, etc.
5. What are the advantages of machine translation?
Companies who use professional machine translation solutions with trained engines typically achieve faster time to market, increased productivity, reliable consistency and fairly significant reduction of translation cost.
While MT is far from replacing human translators altogether, it is a valid translation method that is definitely here to stay. Contact your provider with questions about feasibility of machine translation for your business.