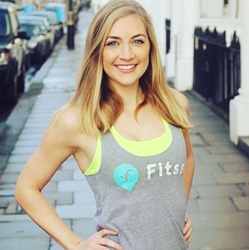 The US, historically the country that pioneers fitness evolution, is a very important market for us and gives us access to almost three in five Americans, or 61 percent of the US population, who participate in fitness and sports. - Lee McPherson
London, UK (PRWEB UK) 25 January 2016
The IOS app that connects fitness fanatics and those on their fitness journey, headquartered in London, made its intentions for the US fitness market during its recent visit to the LA Fit Expo.
Fitness consumers have irreversibly changed the way they interact with fitness and Fitssi is perhaps one of the best kept secrets for life hacking, no need to engage in demotivating or uninspiring workout routines alone, a fitness partner can boost your motivation, increase your results and widen your fitness circle.
Fitssi is a social app connecting users with new and interesting fitness partners on-demand and encompasses an athleisure lifestyle within one app. The team behind fitness recognised the surge in emerging fitness trends and have open the doors on fitness categories, meaning users can connect with a community across Barre, Bootcamp, Crossfit or Yoga, to name a few, as well as growing fitness movements such as Parkour. Far more smarter than a swipe left/swipe right app, the new version 3.1 which was launched at TechCrunch Disrupt London last year, delves deep to give users a like-minded fitness match based on location, activity level, experience and preferred activities, and the newsfeed where users can post hot or sweat dripping fitness selfies also enriches users engagement and social discovery. Each user has their own profile screen which allows other users to see a short bio, how many partners sessions have been completed and a gallery displaying selfies. Once users are authenticated through a Facebook login they then have a choice to post workout schedules or make requests to join others in their training sessions. The integration with iCal means training slots are synchronised with the users device and alerts are delivered before sessions begin.
Fitssi is the is latest fitness venture from Co founders Chris Sweeney and Lee McPherson. Chris Sweeney had previously spent the last 9 years as a successful personal trainer for British fitness chain 'Fitness First'. "The US, historically the country that pioneers fitness evolution, is a very important market for us and gives us access to almost three in five Americans, or 61 percent of the US population, who participate in fitness and sports" says Lee McPherson
Despite the exploding popularity of wearable fitness trackers and apps, Fitssi aims to connect the world through fitness and has big plans and a team of well connected contacts from celebrity personal trainers, corporate wellness advisors and professional athletes to do so. In the UK users including Emily Stephens a certified nutrionist from London, identify with Fitssi as a lifestyle brand and the team aims to replicate the same connection with new users in the US.
Download now available from the appstore here