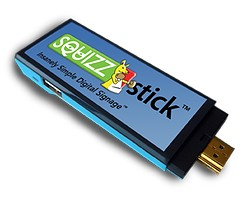 Squizz was designed for small businesses on a tight budget
Pleasant Hill, CA (PRWEB) January 25, 2016
Squizz Digital Signage, a start-up digital signage company based in Pleasant Hill, CA announced they will be launching a marketing campaign on crowd-funding super-site Indiegogo.com today, January 25th, 2016. According to Squizz CEO and founder Chris Oar, the crowd-funding campaign on Indiegogo.com will serve two purposes.
"The Squizz system has been on the market for over a year with great results. People love it because it's so simple to use. But some of our users say, now that they are comfortable with Squizz, they want features. That is exactly what we had hoped for. We want two versions of Squizz Digital Signage, the simple and affordable one and one bundled with more sophisticated features called Squizz Pro. We feel crowd-funding and Indiegogo.com is the best way to drive some sales of our current app so we can turn that revenue right back into development of our new Squizz Pro App."
Squizz is offering current digital signage system, Squizz-Small Business Edition for as much as 75% off it's current retail price exclusively on Indiegogo.com. According to Squizz Sales and Marketing Director, Buck Evinger there will be several funding levels available but the best deals will be for those who get in early.
"Squizz was designed for small businesses on a tight budget, so this is going to be an incredible opportunity. Not only will be discounting the price, but we'll also be offering some great perks for all the funding levels, including our popular "Squizz Me" t-shirt. If anybody is interested though, the best discounts are for people who fund us on Indiegogo.com within the first 48 hours of our launch. It's simply to good to pass up."
The Squizz Indiegogo campaign will offer funding levels starting as low as $25, all the way up to $10,000. The $10,000 funding level is geared towards larger companies or someone who is interested in becoming a re-seller of the Squizz Digital Signage Systems. There is only one of these available as it includes a live "business start-up" party featuring renowned Hypnotist and motivational speaker, Mark Yuzik.
What's so special about Squizz?
The Squizz Digital Signage system employs the use of a cloud-based content manager that can be accessed from any location. This is where users compile images, videos and document files to create their digital signage displays. What makes Squizz so cutting edge is the delivery system. The Squizz system uses Android stick technology, like the one pictured on the left, loaded with the Squizz app. This "Squizz Stick" can be plugged into any TV with an HDMI port and deliver HD quality content continuously.
A live demo of the Squizz content manager is available on the company website along videos and more detailed information about how the Squizz Digital Signage system works. You can also learn more about the Squizz Indiegogo campaign by visiting this link to the Squizz Digital Signage page on Indiegogo.com.
Squizz Digital Signage is based in Pleasant Hill, CA and offers turnkey digital signage systems to small businesses. You can learn more about Squizz Digital Signage at squizzdigitalsignage.com.
Mark Yuzik is a widely known motivational speaker, entrepreneur and comedy hypnotist. He as performed over 8000 events around the world. You can find out more about Mark Yuzik at http://www.greatfun.com.
Indiegogo.com is one of the world's largest crowdfunding websites having launched over 275,000 campaigns. You can learn more about Indiegogo at http://www.Indiegogo.com.