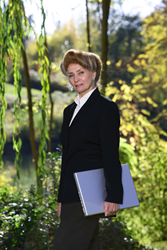 Grants Pass, OR (PRWEB) January 25, 2016
The latest word on California's worst ever, four-year drought is that it has eased considerably in the last few weeks, but it's still too early in the rainy season to tell if the drought is over. For water advocate Sharon Kleyne, who believes that the massive water shortages experienced by Californians during the drought were largely unnecessary, now is the time to begin planning for the next major drought.
And make no mistake, says Kleyne, there will be another one, because California's climate, even at its best, is highly variable.
Kleyne will discuss the California drought, the 2015-2016 winter rainy season, the El Niño rains and her drought preparedness recommendations on the Sharon Kleyne Hour™ Power of Water® radio show of Jan. 25, 2016. The globally syndicated, education-oriented radio show is heard weekly on VoiceAmerica (Health and Wellness, and Variety Channels) and Apple iTunes. For the live broadcast, or podcasts of past shows, go to http://www.voiceamerica.com/show/2207/the-sharon-kleyne-hour
Sharon Kleyne Hour® Power of Water® is sponsored by Bio-Logic Aqua® Research Water Life Science®, founded by Kleyne and specializing in fresh water, the atmosphere, body surface evaporation, dehydration and education. The Research Center's signature product for dry eye is Nature's Tears® EyeMist®.
According to a recent news article (Smith, 2016), the snowpack in the southern Sierra Nevada Mountains now stands at 110 percent of normal. The drought will be considered "broken" if the April snowpack is 150 percent of normal.
The important questions, according to Kleyne, are: How warm will this winter's El Niño weather systems be? And how much will hit Southern California? If the weather systems are too warm, rain will fall instead of snow and not enough mountain snowpack will accumulate. To date, Northern California, Oregon and Washington have received far heavier precipitation than Southern California.
Despite California vast system of aqueducts and reservoirs, says Kleyne, the recent drought was more than the system could handle. For one thing, Southern California is still far too dependent on water importation from the Sierra, Washington and Colorado - areas also seriously affected by the recent drought.
In fact, Kleyne believes, California's drought caused water shortages were largely unnecessary. There is so much water in the world that water consumption by the entire human population for all purposes amounts to a minuscule fraction of one percent. The problem, says Kleyne, is that water consumed by humans must be replaced with fresh water every single day. For eons, rather than recycle waste water, the pattern has been to simply dump the waste somewhere convenient (like the Pacific Ocean) and replace it by constantly importing new water.
During the recent drought, Kleyne explains, several Southern California water districts finally got the message that by recycling, reprocessing and reusing waste water, the need for constant importation can be dramatically reduced. New technology has been developed to cost effectively clean waste water to drinkable standards. In practice, the processed water is recycled into to a reservoir or a ground water aquifer, then run through a purification plant like any other water.
Other water saving processes, Kleyne notes, include using less water for lawns, gardens, laundry and sanitation, the reuse use of certain kinds of waste water (called "gray water") for gardens, lawns and toilets; and salt water desalination.
Kleyne points to the tiny but densely populated island nation of Singapore as a model for intelligent water recycling and conservation policy. Singapore used to import nearly all its water from Malaysia. They now have the physical capacity to be 100 percent water independent.
The point for water decision makers in California and elsewhere, says Kleyne, is that the middle of a debilitating drought is not the time to implement long range water management policies. As it suggests in the Bible (Genesis 41:28-40), the time to prepare for a famine is during years of plenty, not during the famine.
©2016 Bio-Logic Aqua® Research Water Life Science®. All rights reserved.
Source:
Smith, S., "California farmers brace for water shortage despite El Niño," San Jose Mercury News, Jan. 18. 2016
http://www.mercurynews.com/drought/ci_29399354/california-farmers-brace-water-shortage-despite-el-nino