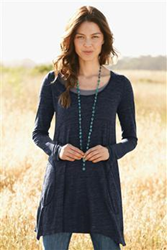 (PRWEB) January 25, 2016
Taking an adventure with the richest, hippest styles of fashion essentials from Territory Ahead just got easier with today's launch of an enhanced website by the global fashion online store. Territory Ahead is all-in-one fashion for women and men who want to dive into life wearing the latest cultural sensations, inspired by some of the world's most exotic locations.
The cool, comfortable and exceptional clothing collection of Territory Ahead is created for life's adventurers who like to travel in style or look chic in the office or at home in an international-inspired outfit. Now they can easily create their very own style online at http://www.territoryahead.com
Fashion customers and fans of Territory Ahead will find an even better customer experience with easier site navigation of the many choices of unique fabrics, patterns and designs of the collection that are guided by textures and colors from around the globe. They will be able to easily search the wide range of comfortable, easy-to-pack shirts, chinos, skirts and accessories, and mix and match online to design a personalized wardrobe.
Enhanced images and better categorization will give customers a better idea of the great materials, colors and choices they have. They will also be able to browse and shop from any type of device and have a much more customized shopping experience.
Customers will also find many great promotions and tailored details of the many colorful styles and patterns. Now they can check out the new 2016 styles of the Territory Ahead collection.
For any adventurer wandering city streets, hiking mountains or heading to meetings, take a daily adventure in style with the Territory Ahead essentials available on the new website.
Interested in a sample? Contact http://www.territoryahead.com or leah@chicexecs.com to learn more.
Leah Cybulski
Senior Public Relations Account Executive
ChicExecs Public Relations &
Channel Management - CHICAGO
ChicBlvd Inc. LLC