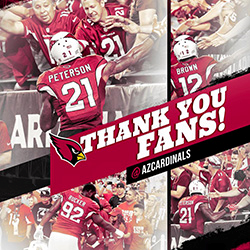 Phoenix, AZ (PRWEB) January 25, 2016
ProPlayer Health Alliance wants you to join Arizona Cardinals players along with other ex NFL greats to support an important charity event. Tuesday, January 26, sports professionals along with medical professionals and a number of public figures will come together at Padre Murphy's to host and support a fundraiser benefiting the Phoenix Police Foundation. Professional athletes will join with Attorney General Mark Brnovich, Nicole Bidwell and "ProPlayer" founder David Gergen for what is promised to be an evening of fun, along with "Silent Auctions" and raffles. "This is about the Phoenix Police Department and the Arizona Cardinals support of our law enforcement. It's about professional athletes supporting law enforcement across the country!" Roy Green, retired Arizona Cardinal
Event details are as follows:
Grand opening of "Arrowhead Pro Sleep" and fundraiser to support the Phoenix Police Foundation
Event Date: Tuesday January 26th, 2016
Fundraiser: 6:30-close, Padre Murphy's, 4338 West Bell Road, Phoenix AZ Tel 602-547-9406
Attendees: (MC) Mr. David Gergen (Gergen's Orthodontics and Sleep Lab), Arizona Attorney General Mark Brnovich, Ms. Nicole Bidwell, Phoenix Police Chief Joe Yahner, Phoenix Chapter of the NFL Players Association (Former Players)
Some of the Athletes who will be in Attendance:
Larry Fitzgerald (Arizona Cardinals)
Roy Green (St. Louis and Arizona Cardinals)
Eric Dickerson (Los Angeles Rams. Los Angeles Raiders, Indianapolis Colts, Falcons)
Marcus Allen (Los Angeles Raiders, Chiefs)
Mike Haynes (Patriots, Los Angeles Raiders)
JD Hill (Bills, Lions)
Frank Sanders (Ravens, Arizona Cardinals)
Derek Kennard (Cowboys, Saints, St. Louis and Arizona Cardinals)
Jim McMahon (Bears, Chargers, Eagles, Vikings, Browns, AZ Cardinals, Packers)
Charles Barkley (76ers, Suns, Rockets, US Olympic "Dream Team")
50/50 Raffle, and autographed Arizona Cardinal Memorabilia will be raffled.
Although not the fitting ending we had hoped for, it was one of the most memorable seasons for Cardinals fans. Larry Fitzgerald is one of three current Cardinals who played in the team's only previous appearance in the conference championship, on Jan. 18, 2009. The Cardinals defeated the Philadelphia Eagles to advance to the Super Bowl, which they lost to the Pittsburgh Steelers in Super Bowl XLIII. Larry will be attending the charity auction at Padre Murphy's, 4338 West Bell Road, Phoenix AZ. Event opens 6:30-close, so stop by and offer congratulations to Larry and his fellow Cardinals.
For additional information contact David Gergen 602-478-9713
SOURCE Pro Player Health Alliance
Related Links
http://www.proplayersleep.org/sleep-apnea-awareness-event/
http://www.padremurphy.com
http://www.phxpolicefoundation.org/
ABOUT PRO PLAYER HEALTH ALLIANCE
Pro Player Health Alliance is an organization dedicated to helping former NFL players, providing testing and treatment options for those who suffer from sleep apnea. Since launching in April 2012, over 260 players have been treated through PPHA's "Tackle Sleep Apnea" campaign. The PPHA works closely with the American Sleep and Breathing Academy and is dedicated to improving health and wellness through sleep education and advocacy.
ABOUT PADRE MURPHY'S
Padre Murphy's Sports Grill is Phoenix AZ's home for fresh food, off track betting and live entertainment. With 56 craft beers on tap, Padre's is Phoenix's premier sports bar. MSN listed Padre Murphy's as one of the top 10 sports bars in All of America!
ABOUT PHOENIX POLICE FOUNDATION
The Phoenix Police Foundation was established in 2002 with the intent to gain community support for unmet police adepartment capital needs, and provide financial assistance for department employees and their families in times of crises. Many cities throughout the United States - including New York, San Francisco, Los Angeles, San Jose and Houston - have robust police foundations that fill a significant funding gap between the city's funding and the community's needs. Our hope is that the Phoenix Police Foundation mirrors the impact of these other comparable cities. During the past 12 years the Foundation has provided emergency assistance for dozens of individuals facing personal tragedies, funding for technology needs for the department, officers' equipment and other various initiatives that help the Phoenix Police Department in its efforts to keep America's sixth-largest city as safe as possible. Although these donations have made various impacts, they are minimal considering the vast size and scope of our city, and the dramatic need that exists.
ABOUT DAVID GERGEN
David Gergen, CDT and President of Pro Player Health Alliance, has been a nationally respected dental lab technician for over 25 years. He received the award for "The Finest Orthodontic Technician in the Country" given by Columbus Dental in 1986. He also has been appointed Executive Director of the American Sleep and Breathing Academy Dental Division, a national interdisciplinary academy dedicated to sleep training and education with over 60,000 members. David rolled out of bed on December 4, 1982 and had his career "ah ha" moment. He knew he was going to be an orthodontic technician and he knew he was going to help people all over the country to help treat their sleep disorders in partnership with their dentists. He has worked for some of the pioneers in the orthodontic and sleep dentistry fields. He was the personal technician for the likes of Dr. Robert Ricketts, Dr. Ronald Roth, Dr. A. Paul Serrano, Dr. Clark Jones, Dr. Harold Gelb, Dr. Joseph R. Cohen, Dr. Rodney Willey, Dr. Allan Bernstein, and Dr. Thien Pham. One of his proudest achievements is receiving The National Leadership award for Arizona Small Businessman of the Year in 2004.