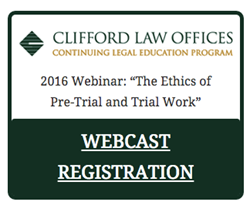 Chicago, Illinois (PRWEB) January 25, 2016
Clifford Law Offices, a nationally renowned personal injury and wrongful death law firm and an accredited continuing legal education (CLE) provider, is sponsoring its ninth annual program free to lawyers across the state.
The "Ethics of Pre-Trial and Trial Work" webinar will be held online 2:30-4:30 p.m. Thursday, February 18. To register, go to http://www.CliffordLaw.com.
Robert A. Clifford, founder and senior partner of the firm, will serve as moderator of the program that offers two hours of professional responsibility CLE credit. Panelists include the Hon. John C. Griffin, Supervising Judge of the Commercial Section of the Law Division, Cook County Circuit Court and a member of the Illinois Supreme Court's Judicial Conference Committee on Education; Robert Burns, Professor, Northwestern University School of Law where he teaches evidence and professional responsibility in the Bartlit Center for Trial Advocacy; and Mary Robinson, principal of the Robinson Law Group and former commissioner of the Attorney Registration and Disciplinary Commission (ARDC).
The objectives of this program are to familiarize attorneys with the Rules of Professional Conduct involving pre-trial and trial issues. Typically, that involves evidentiary issues that face lawyers on a day-to-day basis – from witness preparation to spoliation of evidence, calling a party as a witness to influencers in closing argument. In particular, the objective of the course is to promote the civility of lawyers' conduct in preparation of trial and during trial. Lawyers will be made more aware of the particular Rules that govern their conduct.
Hypothetical questions will be posed and a discussion by the panelists will ensue, exploring various answers to the professional responsibility issues raised using the Rules of Professional conduct as well as case law. The webinar will allow attendees to ask questions of the moderator and panelists who will respond to as many as possible during the two hours.
About Clifford Law Offices
Clifford Law Offices is ranked one of the top law firms in Illinois as well as in the country in the area of complex personal injury and wrongful death cases such as medical malpractice, aviation litigation, products liability, premises liability and transportation litigation. It also has developed a reputation in qui tam litigation or whistleblower cases and handles class action matters as well as commercial litigation cases. To learn more, visit http://www.CliffordLaw.com