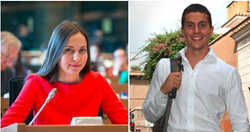 Rome, Italy (PRWEB) January 25, 2016
This week, two alumni from John Cabot University (JCU) were included in Forbes Magazine's first ever "30 Under 30 Europe" list, featuring thirty European innovators, entrepreneurs and leaders in each of ten categories who are under 30 years of age. Included in the "Europe Policy Class of 2016" are two former students from JCU, an American liberal arts university in Rome, Italy - Eva Paunova and Leonardo Quattrucci.
"Researching, vetting and launching our first ever 30 Under 30 Europe list was an incredible task," said Randall Lane, editor of Forbes, which started its 30 Under 30 list in the U.S. five years ago. "We scoured the continent to find the most talented millennials." Both Paunova and Quattrucci are being recognized by the influential business magazine for their work at the European Union.
After graduating from JCU in 2008 with degrees in International Affairs and Business Administration, Eva Paunova became the youngest member of the European People's Party elected to Parliament in 2014. She earned the prestigious "Best Newcomer" award less than a year into her mandate and was recently named one of Politico magazine's people "shaping, shaking and stirring Europe."
The Bulgarian native is founder of education programs such as "Education Bulgaria 2030" in her home country, which aims to connect young Bulgarians with employers, and is a vocal advocate of youth entrepreneurship. Paunova is a member of Parliament's powerful internal and consumer affairs committee and the key economic and monetary affairs committee.
Fellow Forbes list-maker, Leonardo Quattrucci graduated from JCU in 2013 before earning his M.A. in Public Policy from Oxford University. As the youngest policy adviser at the European Political Strategy Centre, the 23-year-old Rome native coordinates six teams and specializes in the future of work and institutional innovation. He is also a World Economic Forum Global Shaper and co-author of "Citizen-Centred Design."
Many students pursuing a degree in international affairs choose to study abroad in Italy for the opportunity to become global citizens at John Cabot University's international campus in the heart of Rome. The independent, four-year liberal arts university was founded in 1972, offering undergraduate degrees and study abroad programs to English-speaking students from over 70 countries across the world.