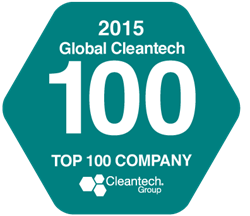 "The Global Cleantech 100 provides us with insight into the collective opinion of key market players on which megatrends and innovation companies are most likely to have a significant impact in the next five to 10 years."
Vancouver, British Columbia (PRWEB) January 26, 2016
Enbala Power Networks has been named in the prestigious 2015 Global Cleantech 100 list. Produced by Cleantech Group, an organization that fosters sustainable technology through industry events and the i3 online market-intelligence platform, the Global Cleantech 100 spotlights private companies that are best positioned to solve tomorrow's clean technology challenges.
Some 6,900 distinct companies from 60 countries were nominated for this year's honors. These companies were weighted and scored to create a short list of 323 companies, which were then evaluated by Cleantech Group's expert, 100-member panel drawn from leading financial investors and representatives of multi-national corporations active in technology across Asia, Europe and North America. The composition of the expert panel broadly represents the global cleantech community, from pioneers and leaders to veterans and new entrants. The diversity of panelists results in a list of companies that command an expansive base of respect and support from many important participants within the global cleantech innovation ecosystem.
"It's gratifying to know that some of the world's most informed cleantech industry contributors see the impact Enbala's technology can deliver," said Enbala President and CEO, Bud Vos. "This is the third year that we've earned this award, which makes it especially rewarding. Our ongoing innovation and development continue to be recognized."
"The Global Cleantech 100 provides us with insight into the collective opinion of key market players on which megatrends and innovation companies are most likely to have a significant impact in the next five to 10 years," said Michele Parad, Senior Manager at Cleantech Group and lead author of the Global Cleantech 100 Report. "Now in its seventh year, the Global Cleantech 100 program reveals which themes are staying relevant and which sectors are taking center stage."
For complete information on Enbala's leadership within the cleantech space, visit i3connect.com and search for Enbala. The list is accompanied by a full report with commentary and insight on the 2015 Global Cleantech 100. Download the report at: http://www.cleantech.com/indexes/global-cleantech-100/2015-global-cleantech-100/.
About Enbala Power Networks
Enbala Power Networks is focused on making the world's power grids greener and more reliable, efficient and predictable by harnessing the power of distributed energy. Enbala's real-time energy-balancing platform is transforming energy system operations through its revolutionary, highly flexible approach for creating controllable and dispatchable energy resources. It unobtrusively captures and aggregates available customer loads, energy storage and renewable energy sources to form a network of continuously controlled energy resources. The platform dynamically optimizes and dispatches these resources to respond to the real-time needs of the power system – all without impacting customer operations. For more information, visit http://www.enbala.com or follow us on Twitter at https://twitter.com/Enbala.