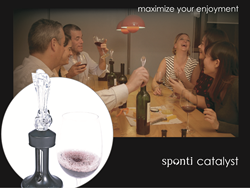 What I like most about this product is you can quite easily go back and forth within the settings and find your sweet spot. It's actually quite amazing!
(PRWEB) January 27, 2016
The problem most people face when choosing a new bottle of wine is the unknown amount of potential enjoyment. Without a tasting, it is impossible to say if you will like it or not. Many factors affect the perception of wine; ranging from the bottle's outlook, critics reviews, to how the bottle was stored.
Most people agree that after a bottle of wine is opened, it needs to breathe. This action oxidizes the wine releasing its aromas and flavors. But even with expert knowledge, the amount that each bottle should 'open up' is subjective. Only the individual drinking the wine will know for certain if the taste is to their liking. Traditional methods for wine preparation such as decanting can take hours for wines to reach their peak. And it is equally important not to over oxidize the wine as the flavors can go flat. One can easily drink an entire bottle of wine and feel only a small portion had 'opened' exactly the way they liked.
With the Sponti Catalyst, instantly discover the differences in aromas and flavors hidden naturally in each bottle of wine by adjusting the level of aeration. Turn the painful guesswork of when the wine will be ready into a fun exploration of taste. Compact and elegant in design, the Catalyst features a powerful aeration system that took over 18 months to engineer using the principles of airflow and fluid dynamics. A unique dial allows users to control aeration for only the amount of wine being poured. Different people enjoy different tastes and each pour of wine can be tailored by-the-glass. Spend time savoring wine not the preparation or the wait. The industrial designers at Sponti know people will enjoy wine more by using the Catalyst pourer.
Please support their crowd funding campaign on Kickstarter on Feb 2, 2016
See how the Catalyst works video at: http://www.facebook.com/spontiproducts
Please like our page.
Visit us at: http://www.sponti.com
Contact Al for further details: sponti@sponti.com