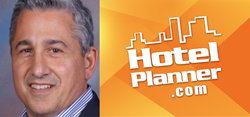 We searched extensively and having Joe as part of our team in this new position will help HotelPlanner.com accelerate growth and maximize performance
West Palm Beach, FL (PRWEB) January 26, 2016
HotelPlanner, the largest producer of online group hotel bookings worldwide, is pleased to announce today that Joseph (Joe) Groglio has been appointed Chief Financial Officer for the company. Mr. Groglio has over 35 years of financial experience, with several Fortune 500 companies and a Public Accounting background, with 24 years spent in the travel industry.
He has been a consultant in the industry for the past year working with companies to improve operating processes. Prior to that, Mr. Groglio served as Group Vice President & Controller for the Hertz Corporation, Car Rental Division, where he worked for 23 years, from 1991 to 2014, in various financial roles of increasing responsibility for the U.S. and International operations.
From 1985 to 1990, Mr. Groglio worked for PepsiCo, Inc., in management roles at corporate headquarters, in the financial reporting and planning areas. He also spent several years at DLJ Securities Corporation in finance roles, after starting his career in public accounting with KPMG. He holds a degree in Accounting from Villanova University and an MBA in Finance from Pace University. He is a native of Rye, New York, and is married with two children.
"We are thrilled to have Joe Groglio on board as he brings with him a wealth of financial expertise," stated Tim Hentschel, CEO of HotelPlanner.com. "We searched extensively and having Joe as part of our team in this new position will help HotelPlanner.com accelerate growth and maximize performance."
About HotelPlanner
HotelPlanner.com provides group hotel booking services to 2,000 groups per day in the global group travel market. The company's group hotel booking service ensures the lowest rates by allowing customers to receive quotes online directly from hotel group sales managers. HotelPlanner allows customers to book hotels for business meetings, conferences, conventions, family reunions, weddings, extended stays, tours, military reunions, church events, and group travels. The company also provides mobile applications for booking group hotel reservations. The company owns and operates Meetings.com, a site that provides information and booking services for group, meeting, and individual hotel stays for the corporate and business to business enterprises. Founded in 2002, the company has offices in London, England, (European Headquarters), Hong Kong (Asia Headquarters), West Palm Beach, FL (USA Headquarters), and Las Vegas, Nevada.
HotelPlanner.com is proud to provide hotel reservation services to the following valued clients within the sports team and university, corporate, and government organizations. The company's Pro Sports Team clients most notably include the San Diego Chargers, Washington Redskins, St. Louis Rams, Professional Bowlers Association, European Professional Golfers (EuroPro), Super League (Rugby), AFC Wimbledon, Millwall F.C., and Queens Park Rangers F.C. In terms of college travel, Universities such as Texas A&M, New Mexico State, Saint Mary's College, Bradley University, University of Reno-Nevada, University of Illinois-Chicago, Northeastern University, Cal Poly, and California State University Northridge use HotelPlanner to negotiate their group travel and recruiting stays. Corporations such as CROMPCO, Siemens, Jackson Motor Sports, National Grid, Chicago Bridge & Iron, Publix, and Servpro and Government clients such as the State of Louisiana, State of Mississippi, Government Services Agency, US Marines-Camp Le Jeune (Group), and US Communities also utilize HotelPlanner.com as their hotel procurement provider to negotiate hotel rates, book hotel reservations and provide excellent service year-round.
For more information, please contact Bruce Rosenberg at (818) 661-0244 or via email at Bruce.Rosenberg(at)hotelplanner(dot)com