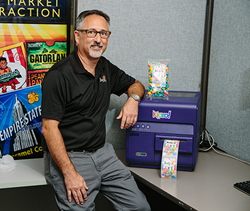 I was impressed with the quality of the label and how quickly the labels were printing. They were beautiful.
West Warwick, RI (PRWEB) January 26, 2016
QuickLabel Systems, a division of AstroNova (NASDAQ: ALOT), has released a video interview with Jody's Gourmet Popcorn to show how the premium popcorn maker uses the Kiaro! label printer to print labels for their many flavors of popcorn. By printing their own labels for popcorn bags, packs, and tins, Jody's is able to professionally package their bags of seasonal popcorn, private label their products for other brands, and personalize labels for weddings and special events.
The new video can be viewed on the QuickLabel website, and on QuickLabel's YouTube channel at Youtube.com/QuickLabel.
While they started with their small ocean front store in Virginia Beach, Jody's quickly amassed a large following of gourmet popcorn fans. As the business grew, so did Jody's product line. It became less affordable to order thousands of labels for all of their many flavors, package sizes, and special requests for custom labeling.
"We weren't just making one product, we were making a lot of products, and we were sending a lot of our products to be outsourced," says Katz, "The cost of having that entire inventory sitting on our shelves didn't seem to make a lot of sense."
Looking for a short-run labeling solution, Jody's found QuickLabel Systems and the Kiaro! label printer.
"When I first saw the Kiaro! I thought 'Wow that's purple!'," reveals Michael Katz, "It really caught my attention and I really connected with the creative labeling possibilities with the Kiaro!."
"Then I saw it operate," continued Katz, "I was impressed with the quality of the label and how quickly the labels were printing. They were beautiful. They were photographic quality. I saw photographs printed, I saw very basic labels being printed, and they all printed very quickly. I thought, 'Wow! That's incredible quality, that's incredible speed.'"
Saving Money By Eliminating Waste and Printing On-Demand
"The amount of time it takes for us to turn around a custom job has decreased greatly. With the Kiaro!, we can actually turn around a job same-day without a problem," says Katz.
The cost of having finished labels in inventory is huge. "Not having inventory of finished labels on our shelf is saving us a great deal. There is potential waste with inventories of pre-printed labels", explains Katz, "If something happens, if there's a modification that is required because of a government change, or because of a law change, or we change our marketing position – any change you can think of, if the labels are already printed, they become waste."
Jody's Gourmet Popcorn also encountered the issue of limited space due to large stocks of pre-printed labels.
"With all of our different SKUs between the combinations of flavor and the packaging size, we had to have different labels for each one of those things. You can imagine the space that takes up," Katz states.
With the Kiaro! label printer helping Jody's streamline their warehouse he concludes satisfyingly, "We're only stocking blank labels and printing as we need."
About Jody's Gourmet Popcorn
Jody's Gourmet Popcorn of Virginia Beach, VA makes fresh, delectable kettle corn, caramel corn, and flavored seasonal popcorn for all the world to love. Shop in-person at the beautiful ocean front store located at 31 Ocean Shops or online at http://www.JodysPopcorn.com. To sell Jody's Popcorn in your own retail store, wholesale food pricing and quantities are available. Jody's makes a great fundraiser for your school or organization. Custom packaging for special events and other special orders are also available. To contact Jody's, please call 866.797.JODY. To keep up with seasonal popcorn flavors, discounts, and customer appreciation gifts, friend Jody's on Facebook at https://www.Facebook.com/JodysPopcornVB.
About QuickLabel Systems
QuickLabel Systems is a leading manufacturer of digital color label printers used by manufacturers and processors who want to print their own labels in-house instead of buying costly pre-printed labels. QuickLabel Systems is a brand of Astro-Med, Inc., (NASDAQ:ALOT) a manufacturer of applied data visualization technologies including aerospace, test & measurement, and product identification. Additional information is available by visiting http://www.QuickLabel.com. Keep up with QuickLabel Systems on Facebook at http://www.Facebook.com/QuickLabel.