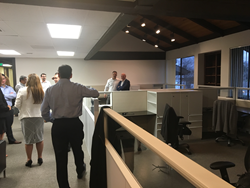 We have greatly enjoyed working with our partners and clients in Southern California for almost 25 years, and we are all thrilled to have a physical office location.
Long Beach, CA (PRWEB) January 27, 2016
EBI Consulting, an industry leader in environmental, engineering, and health & safety consulting services, announced today the opening of its newest regional office in the Bixby Knolls neighborhood of Long Beach, CA. The company's expanded presence in the area will allow EBI Consulting to better serve the needs of its clients in Southern California and the greater West Coast region.
EBI Consulting's employees, clients and business partners are excited by this opportunity to reinforce and expand the breadth of the company's exceptional environmental and engineering consulting and due diligence services for which they are known. EBI has relocated several employees to help launch the L.A. County office, bringing the southern California full time employee headcount to almost forty, with many job openings available.
"We have greatly enjoyed working with our partners and clients in Southern California for almost 25 years, and we are all thrilled to have a physical office location. This will enable us to offer all of our services on the west coast, including remediation, civil engineering and construction management, and more mechanical and structural engineering. As a closely held private company, every team member is like family to us, and we're excited to provide a new home for our people and to be a larger part of the community that we serve." – Jeffrey Previte, President, Telecom & Retail Services
This new office will allow EBI Consulting to enhance relationships with current clients in the area, while being able to attend to the requests of future clients seeking to mitigate environmental and engineering risk in their businesses. The Long Beach, CA location marks the company's 14th office to date, with existing offices in:

Atlanta, GA
Baltimore, MD
Burlington, MA – headquarters
Chicago, IL
Dallas, TX
Denver, CO
Houston, TX
New York, NY
Phoenix, AZ
Portland, OR
Richmond, VA – opening soon
San Francisco, CA
Seattle, WA
York, PA
About EBI Consulting
EnviroBusiness, Inc. (doing business as EBI Consulting) has since 1989 provided industry leading environmental risk and compliance management, due diligence, energy efficiency, and engineering services to organizations seeking to improve operations, lower costs, manage risk and exceed stakeholder expectations. Combining broad technical expertise with deep industry knowledge and a business perspective, EBI solves challenging problems with a focus on creating business value.
EBI Consulting has grown to more than 450 employees and was recognized as one of the nation's top 50 fastest growing environmental firms by the Zweig Letter. The company is a top national provider of environmental, civil and structural engineering services to the real estate, financial services and wireless telecommunications industries, including many Fortune 500 clients. In addition, we serve a diverse and growing base of life sciences, healthcare, academic/laboratory, manufacturing, and other industrial and institutional clients. EBI Consulting is known for the quality of our work, the business and technical expertise of our consultants, our professionalism and responsiveness, and the personalized nature of our services.