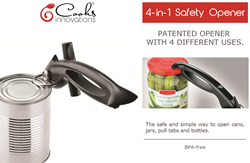 This unique multi-functional kitchen innovation will leave you wondering how you ever used your old can, jars or bottle openers
Lake Mary, Florida (PRWEB) January 26, 2016
Cooks Innovations® announced today the launch of its cutting-edge 4-in-1 Safety Opener, providing a safe and easy way for families to open their kitchen foods and drinks with ease.
"This unique multi-functional kitchen innovation will leave you wondering how you ever used your old can, jars or bottle openers," said Peter Vander Stichele, Cooks Innovations, President. "Not only does it combines 4 tools in one, turning opening anything into a virtually effortless exercise; but its sleek handle and beautiful design make it a pleasure to use. To try it is to adopt it."
The patented 4-in-1 Safety Opener also improves kitchen safety. When opening cans, it leaves no sharp edges and the opener never touches the food, eliminating the risk of cross contamination. Its opening mechanism simply grabs the rim and safely breaks the seal of the lid as it goes around the can.
If simplicity is elegance, the 4-in-1 Safety Opener minimalist design is as ecstatically pleasing as it is practical. It is the ideal addition to the modern kitchen.
The 4-in-1 Safety Opener can be found online at http://www.CooksInnovations.com.
About Cooks Innovations
Cooks Innovations is the new consumer brand from IMCG, Inc., launched in 2014. Founded in 1998, IMCG, Inc. is a privately-held organization headquartered in Lake Mary, Florida. The company specializes in designing, manufacturing, and distributing problem-solving innovations for the home. For the past 17 years, IMCG, Inc. has demonstrated its commitment to improving the lives of families looking for practical and fun solutions to everyday challenges.
Contact Information
Peter Vander Stichele
Tel: +1 (407) 804-1656
Peter(at)cooksinnovations(dot)com
http://www.cooksinnovations.com