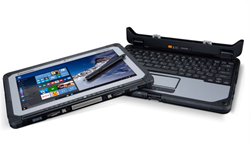 The fully rugged Toughbook 20 convertible is the ultimate rugged computing solution for mobile workers, delivering features that enable productivity both in and outdoors.
Chandler, AZ (PRWEB) January 26, 2016
Group Mobile, well known for carrying the top brands in rugged computers and mobile computing solutions, has extended its product offerings to include the Panasonic Toughbook 20, a rugged 2-in-1 device which can be used as both laptop or tablet. The Toughbook 20 is designed for field use in the toughest environments such as, police, military, field service, logistics, oil and gas, and transportation.
Offering the best of all worlds for mobile workers, the Toughbook 20 can be used in six different usage modes. The Toughbook 20 can be used as a normal laptop, isolated tablet, flipped 180 degrees for presentations, in automobile mode with keyboard attached, built-in lift mode or unresolved on a wall, and car mode while device is on the move. The handle doubles as a kickstand for flexibility. The gloved multi touch display is sunlight viewable and perfect for use outdoors.
"Our customers are constantly pushing the boundaries of how and where our devices are used," said Jan Ruderman, Vice President, Business Mobility Group, Panasonic System Communications Company of North America. "As a truly customer-driven solution, the Toughbook 20 delivers what many of our customers are looking for – a single rugged device that delivers all the advantages of a fully functioning laptop and tablet."
The Toughbook 20, 2-in-1 convertible laptop weighs 3.9 pounds and, comes standard with a sixth-generation Intel Core m5-6Y57 vProTM processor with 128GB solid state drive, 8GB RAM, HD Graphics 51 GPU, and Windows 10 Professional. The device has a 10.1" WUXGA 1920 x 1200 sunlight viewable touch screen, and can optionally come with a digitizer for stylus input. A 2,600mAh battery comes standard for an all day charge, batteries are hot-swappable allowing for usage without disruption.
An optional battery on the keyboard dock can be added for additional power to keep users up and running all day and night.
Panasonic Toughbooks are built to withstand extreme environments, and the Toughbook 20 meets MIL-STD-810G military standard for electromagnetic interference. The Toughbook 20 is designed to work through drops and extreme conditions such as shocks, rain, vibration, dust, sand, and extreme temperatures. The case is a specialized magnesium-alloy with ABS, and elastomer edges and includes a built-in handle that can be used as a kickstand or for hanging the device when necessary. The Panasonic Toughbook 20 can be extended with additional options including GPS and 4G LTE mobile broadband, SmartCard technology, serial port, magstripe and 1D/2D barcode reader, and a fingerprint scanner for extended security.
The Toughbook 20 is supported by a broad selection of accessories, including a desktop dock, vehicle docks, rotating hand strap, 4-bay battery charger, vehicle charger, carrying cases, and replacement items such as waterproof stylus pens for digitizers, tethers, protective screen films, batteries, and AC adapters.
"The fully rugged Toughbook 20 convertible is the ultimate rugged computing solution for mobile workers, delivering features that enable productivity both in and outdoors," said Stephanie Kreitner, Executive Vice President of Group Mobile. "The Toughbook 20 is ideal for use in challenging environments that require full functionality, and large data capturing ability to complete any task in the field."
The Panasonic Toughbook 20 can be ordered from Group Mobile. For more information on the rugged Toughbook 20 convertible laptop visit: http://www.groupmobile.com/product.asp/sku=7978/dept_id=/mf_id=1/Toughbook+20+Fully+Rugged+Detachable+Laptop.html
About Group Mobile
Headquartered in Phoenix, AZ, Group Mobile serves customers all over North America. Customers range from Fortune 500 companies and the U.S. Military, to local police/fire/ambulance, to small and mid-size businesses, to the frequent traveler that needs something more durable than a commercial, off-the-shelf computer. Group Mobile carries all the leading rugged computing brands. In addition, Group Mobile offers vehicle docking and mounting equipment from Gamber-Johnson, Ram Mounts, and Havis. To learn more about rugged computers and how they differ from commercial, indoor computers, check out the Rugged Computer Guide or visit us online at http://www.groupmobile.com.