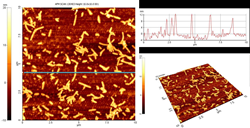 "Atomic Force Microscope (AFM) is used to understand the static properties of smart fluids and reveals valuable information about their physicochemical and hysteresis properties," Prof. Advincula, Case Western University
Santa Clara CA (PRWEB) January 26, 2016
Park Systems, world leader in atomic force microscopy (AFM) is offering a nanotechnology webinar titled Smart Fluids, Gels, and Rheology on Feb. 11, 2016 at 9am PST. Smart fluids, created to be stimuli-responsive and capable of high performance under extremely challenging environments or conditions are used in nanotechnology applications to improve overall fluid performance and create added-value in manufacturing and production. To register online for the free webinar go to: parkafm.com/webinar_11feb2016
"Smart fluids are typically capable of changing their properties with field effects from light, temperature, magnetic behavior, and biological response," explains Dr. Rigoberto Advincula, Professor at Case Western Reserve University who will give the webinar hosted by Park Systems, world-leading manufacturer of Atomic Force Microscopes. "Nanoparticles are considered additives and can influence the visco-elastic behavior and rheological properties of fluids and impart to them the ability to achieve high viscosity, thermal transport, and electrical conductivity. Examples include nanoclays, graphene, and carbon nanotubes."
"Atomic Force Microscope (AFM) is used to understand the static properties of smart fluids and reveals valuable information about their physicochemical and hysteresis properties," adds Dr. Advincula.
Various smart fluids such as gels, lubricants, hydraulic fluids, emulsions, degreasers, and rheology modifiers are under development to improve oil and gas production and hydraulic fracturing, high performance lubricants and hydraulic fluids for the automotive industry and machinery as well as other new applications in aerospace and nanotechnology. Fluids used in many applications can be made "smarter" although cost is an important factor.
In oil and gas, smart drilling fluids enable temperature and brine stability to maintain a specific density, and stability with shear and pressure using clays, emulsions, surfactants, anti-corrosion agents, and polymer additives to protect against formation damage. Specific thermal and chemical response can trigger changes in properties. Other relevant fluids in oil and gas include completion fluids, stimulation fluids, and hydraulic fracturing fluids.
In many applications it is desirable to control flow, viscosity, and other properties by switching the mechanism or gradient of stimuli. In chemical settings, for instance, the stimuli would be the application of salts or molecules that trigger cross-linking; in mechanics, shear and mechanical shock tend to affect metastable phases, pH control will be used for weak acids and bases magnetic applications would require the use of magnetic fields to affect magnetically sensitive nanoparticle alignment, and thermal uses involve the application of a critical solution temperature that will trigger insolubility or phase immiscibility.
This webinar is part of an ongoing series offered by Park Systems' Nano Academy, a platform for providing education and shared knowledge on the latest nanotechnology advancements.
"Park Nano Academy is offering a series of webinars to enhance nanoscientific knowledge across multiple disciplines," comments Keibock Lee, President Park Systems. "The webinars are free and extremely beneficial for anyone studying nano particle methods and applications in the field of nanotechnology."
Steady improvements in the technologies used to control smart fluids, such as microprocessors and sensors, are opening up a diverse range of new markets. The smart fluids webinar will focus on a number of polymeric and blend systems that contain functional groups capable of responding to stimuli. It is designed to enhance the knowledge of smart fluids and give in-depth understanding of their unique design features and applications.
To register for the webinar, go to parkafm.com/webinar_11feb2016
About Park Systems
Park Systems is a world-leading manufacturer of atomic force microscopy (AFM) systems with a complete range of products for researchers and industry engineers in chemistry, materials, physics, life sciences, semiconductor and data storage industries. Park's products are used by over a thousand of institutions and corporations worldwide. Park's AFM provides highest data accuracy at nanoscale resolution, superior productivity, and lowest operating cost thanks to its unique technology and innovative engineering. Park Systems, Inc. is headquartered in Santa Clara, California with its global manufacturing, and R&D headquarters in Korea. Park's products are sold and supported worldwide with regional headquarters in the US, Korea, Japan, and Singapore, and distribution partners throughout Europe, Asia, and America. Please visit http://www.parkafm.com or call 408-986-1110 for more information.
About Prof. Rigoberto Advincula
Prof. Rigoberto Advincula, Director of the Petro Case Consortium, is recognized industry-wide as an expert regarding polymer and materials challenges of the oil-gas industry. He is currently a Professor with the Department of Macromolecular Science and Engineering at Case Western Reserve University and is the recipient of numerous awards including Fellow of the American Chemical Society, Herman Mark Scholar Award of the Polymer Division, and Humboldt Fellow.