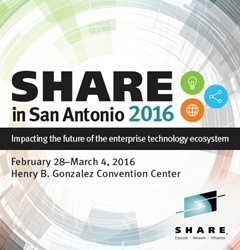 We'll be hosting a technical breakout session on mainframe security this year and we're excited to partner with SHARE again.
Naples, FL (PRWEB) January 26, 2016
CorreLog, the leader in multi-platform IT security event log management, today announced participation in the annual SHARE in San Antonio conference. CorreLog's advancements in IT security have created great awareness in the mainframe security community, and have again granted them an invitation to contribute to SHARE's commitment to education at SHARE San Antonio.
The SHARE San Antonio conference will be held February 28 through March 4 at the Henry B. Gonzalez Convention Center. SHARE, a Chicago-based independent information technology association run exclusively by volunteers, holds two annual conferences in the U.S. to discuss and improve upon technical matters affecting the global family of IBM mainframe users while connecting professionals and advancing technology's positive influence in the business world.
"We're thrilled to participate in our ninth consecutive SHARE conference as both speaker and sponsor," said George Faucher, president and CEO at CorreLog, Inc. "The ever-changing landscape of security technology demands on-going education and awareness to make enterprise data systems safe and compliant. We'll be hosting a technical breakout session on mainframe security this year and we're excited to partner with SHARE again."
CorreLog can be found at SHARE San Antonio in the Henry B. Gonzalez Convention Center Expo Hall in booth #616-618. Click here to view the SHARE San Antonio agenda.
As a trusted partner of SHARE's annual conference, CorreLog, Inc. will be hosting a session to educate conference attendees on advancements in mainframe security and compliance. Details below (all times in CST):
CorreLog Speaking session: "Protect your Mainframe with SIEM (Security Information and Event Management) and Make a $2 Million Connection"
Charles Mills, CorreLog's Director of Advanced Projects, will deliver a technical breakout session addressing the interaction between your existing distributed Security Information & Event Management (SIEM) system and critical mainframe security - a misunderstanding between these "two worlds of IT" could be a $2 million mistake.
● When: Tuesday, March 01, 2016: 11:15 AM - 12:15 PM
● Where: Room 225A, Henry B. Gonzalez Convention Center, San Antonio, TX
● Session #: 18538 | Session details from Share.org
● Speaker: Charles Mills, CorreLog Director of Advanced Projects | Speaker Bio
● Speaking Tracks: Enterprise Data Center|Security and Compliance
About SHARE:
SHARE is an independent volunteer-run information technology association that provides education, professional networking and industry influence. SHARE is headquartered in Chicago, Illinois, and more information on SHARE can be found at share.org.
About CorreLog:
CorreLog, Inc. is the leading independent software vendor (ISV) for cross-platform IT security log management and event log correlation. Our solutions provide the best-in-class, real-time event log management across both distributed (Windows/UNIX/Linux) and mainframe platforms (IBM z/OS). Event Log management from CorreLog's premier security solutions are ready-format for any name brand enterprise SIEM (Security Information & Event Management) correlation servers, as well as CorreLog's own SIEM Correlation Server.
CorreLog SIEM Agent for z/OS, CorreLog's flagship product, is the first real-time z/OS event monitoring solution available to CISOs with mainframe security and compliance needs. It resides in single or multiple mainframe LPARs at a very light weight, converting mainframe security events such as RACF, ACF2, Top Secret, and DB2 accesses into syslog events compatible with enterprise SIEM systems. In addition, CorreLog's SIEM Agent has been designed to comply with standards set forth by PCI DSS, HIPAA, IRS Pub. 1075, SOX, GLBA, FISMA, NERC, and many other regulatory standards, in addition to the best real-time enterprise mainframe security. CorreLog markets its solutions through both direct and indirect partner channels. For more information on CorreLog products, please visit us here.
Copyright © 2016, CorreLog, Inc. All rights reserved.
All trademarks and registered trademarks used herein are the properties of their respective owners.