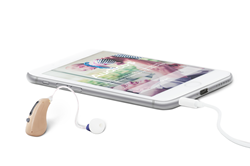 "We saw a need in the market for a non-medical device that provides just the right amount of amplification and filtration when needed." Patrick Freuler, Audicus CEO
New York, New York (PRWEB) January 26, 2016
Audicus, the leader in online hearing aids, today announced the release of the Solo, a personal sound amplifier that can be customized with an app.
The world is getting noisier and people are increasingly having trouble discerning speech in settings like restaurants, theaters, work functions and large gatherings. The Solo provides a personalized listening experience for those who want an occasional sound boost.
"The Solo is terrific at enhancing sound and reducing background noise," said Audicus CEO Patrick Freuler. "We saw a need in the market for a non-medical device that provides just the right amount of amplification and filtration when needed."
The Solo set-up process is unique. Users first request a free set-up kit, which includes noise-canceling headphones. These are used with an app, the Audicus Tuner, which can be downloaded on an iPhone or iPad. The app asks users about challenging listening environments and guides them through a series of listening exercises to determine their preferences.
"We spent considerable time researching people's needs and developing the Audicus Tuner app," said Freuler. "The app makes it easy for users to select their preferences before receiving the Solo."
Once the Solo is personalized based on the user's input, Audicus sends it to them for a 45-day trial.
At just $399, the Solo ranks as one of the most affordable, high-tech hearing amplifiers available online. Most importantly, it allows users to listen to the world at full volume, empowering them to engage with their surroundings.
###
About the Solo
The Solo, made in America, is an innovative hearing amplifier that augments speech and reduces background noise. It is meant for occasional use when one wants an extra boost in sound. The Solo sits comfortably behind the ear and is discreet when worn. It comes with a one-year warranty and 45-day trial period.
About the Audicus Tuner App
The Audicus Tuner app was developed to personalize the Solo. After downloading it on an Apple device, the user indicates select environments in which they'd like sound enhancement, and completes a series of listening exercises. Audicus uses these stored preferences to personalize the Solo for each individual.
About Audicus
Audicus offers high-tech, affordable hearing aids and personal sound amplifiers online. Through its innovative business model, Audicus has enabled consumers to save more than $20 million since 2012 and has helped thousands lead more connected and empowered lives.
Website: Audicus.com I Facebook I Twitter I Instagram: @Audicus