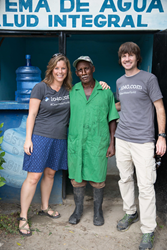 ...we're spending less on mainstream advertising this year, of course, but we hope those who like what we're doing will help spread the word.
Franklin, NC (PRWEB) January 27, 2016
This tax season, the do-it-yourself online tax filing service 1040.com has launched their Give Back campaign with Healing Waters International(HWI), a nonprofit organization that helps provide communities in developing countries with safe drinking water and health and hygiene education.
For every 2015 tax return filed through 1040.com – including free returns – they will donate $2 to clean water projects around the world. "$2 can provide two months of clean water for someone who desperately needs it," said Kayla Fruchtman, Director of Development and Marketing for HWI, when describing the new initiative. "What's great is that 1040.com is not asking their customers to pay extra. You file your taxes on their site and they give $2; it's that simple."
Healing Waters International (HWI), based in Golden, Colorado, has worked with over 170 communities around the world – developing affordable, state-of-the-art water filtration systems that transform dirty water into safe water. This past December, 1040.com sent employees to the Dominican Republic to visit some Healing Waters project sites.
"After our trip with Healing Waters to the Dominican Republic, where we saw firsthand the impact they are having, it became a priority for us to support their cause by pledging a portion of our revenue," said James Stork, Senior Vice President of 1040.com. "Their holistic clean water solutions are transforming communities, and we want to help build awareness for their work. So, we're spending less on mainstream advertising this year, of course, but we hope those who like what we're doing will help spread the word."
Learn more at 1040.com/giving-back.
About 1040.com
1040.com provides a website for filing individual federal and state income taxes online. The site offers an easy interview, straight-forward no-haggle pricing, and guarantees a maximum refund and accurate calculations. Simple federal returns are free and the taxpayer can get their fastest possible refund with free e-File and direct deposit. Additionally, 1040.com updates prior-year data for no extra charge if the taxpayer filed with them before.
1040.com's parent company, Drake Software, has been making professional-grade income tax software since 1977 and is one of the largest income tax software companies, serving over 50,000 tax professionals nationwide. Over 15 million federal income tax returns were filed through its tax applications in 2015. Drake Software is headquartered in Franklin, North Carolina, and its entire, extended development and customer service teams are located in the U.S.A.