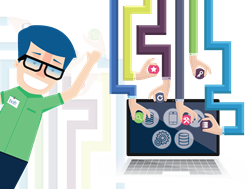 Continuing our focus on the Modern Web, Stable 3.0 brings new, key capabilities to the IDE, like the JavaScript debugger.
Flower Mound, Texas (PRWEB) January 26, 2016
Stable 3.0 includes a host of new features. Among them, Slack integration, Gerrit workflow automation, a new breadcrumb toolbar, along with fixes and enhancements to core areas improving server support for WebSphere and updating PhoneGap. These additions are incredible productivity aids for developers and their teams.
"Continuing our focus on the Modern Web, Stable 3.0 brings new, key capabilities to the IDE, like the JavaScript debugger - features that are hard or even impossible to find in the Eclipse space," stated Brian Fernandes, product manager for MyEclipse at Genuitec.
MyEclipse JavaScript debugger allows to debug both modern Web applications and Node.js applications on all platforms and architectures, including the often requested Windows 64-bit OS. Node.js support allows to debug against Node versions 0.10, 0.11 and 0.12, and all Java EE versions are supported.
Slack, featured in Inc. magazine as Company of the Year, plays an important role in a great number of teams nowadays. It was Genuitec's desire to add features that could make the lives of team developers easier by incorporating Slack into MyEclipse. With MyEclipse Stable 3.0 and Slack Integration, team members can send and receive code snippets seamlessly. Viewing shared code directly in MyEclipse without needing to access Slack to view the code is now possible.
If Gerrit is used for code review and repository management for Git, Genuitec has streamlined the process with Gerrit automation works. Now, it's a breeze to instantly fetch changes and switch between multiple feature and stable branches. Plus, a high quality of code and test against regressions before submitting code to stable branches is now insured.
These amazing additions and more are available with the new MyEclipse Stable 3.0. Learn more and purchase at:
https://www.genuitec.com/products/myeclipse/download/
About Genuitec:
Started in 1997 and counting over 16,000 companies in 191 countries as customers, Genuitec is a leader in the Eclipse open source community. As a founding member of the Eclipse Foundation, Genuitec has actively participated in strategy, development, and direction for the organization.
Today, Genuitec supports one of the largest developer communities for commercial Eclipse tools. Customers benefit from Genuitec's ongoing commitment to open standards and to the continual enhancement of the MyEclipse, Secure Delivery Center, Webclipse and GapDebug product families with unique innovations and low subscription pricing.
Contact Genuitec today to learn more: https://www.genuitec.com/company/contact
Follow us on Twitter: @Genuitec @MyEclipseIDE