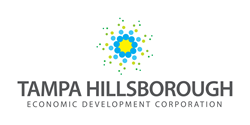 "You can find your dream home and your dream job here – and spend your weekends at some of the best beaches in the world."
Tampa, FL (PRWEB) January 25, 2016
For the second year in a row, the Tampa metro area claims the lowest cost of living in the state of Florida, according to the latest Cost of Living Index (COLI) report issued by the Tampa Hillsborough Economic Development Corporation (EDC). With a national average index of 100, Tampa's 2015 COLI came in at 91.6, more than 8 percent lower than the national average.
"What this score means is that the Tampa metro's housing, groceries, gas, clothing, and health care costs are all lower than the national average, " said Randy Smith, director of research for the Tampa Hillsborough EDC. "Our affordability, coupled with the fact that Tampa Bay is also first among the state metro areas in job demand, makes this region an even more attractive community for people seeking opportunities in high-wage, high-skill occupations such as information technology. You can find your dream home and your dream job here – and spend your weekends at some of the best beaches in the world."
Earlier this month, Florida Governor Rick Scott announced that the Tampa area leads the state in job creation, adding 41,400 new private sector jobs over the year in December, the highest number of new jobs among all Florida metro areas. The unemployment rate in the Tampa area declined by 0.9 percentage point over the year to 4.4 percent in December.
Since 2011, the Tampa MSA has been occupying the first and second spot for affordability in the state of Florida. The metro is also more affordable compared to other metros across the country, with COLI scores consistently lower than cities such as Denver, Phoenix, Dallas, and Atlanta.
The composite index score is based upon individual scores for grocery items, housing, utilities, transportation, health care, and miscellaneous goods and services, which are all weighted differently. Tampa's lowest score was in housing, where the area came in at 78.7. The highest score was transportation, where it came in at exactly the national average of 100.
For more information about the area's Cost of Living scores, please visit the Tampa Hillsborough EDC's Data Center.
About the Tampa Hillsborough Economic Development Corporation
The Tampa Hillsborough Economic Development Corporation is the lead economic development agency for Hillsborough County and the cities of Tampa, Plant City, and Temple Terrace. Established in 2009 as a partnership between the public sector and private corporate investors, the EDC works to develop and sustain a thriving local economy through the attraction, retention and expansion of high wage jobs and capital investment within targeted industry sectors. Working with C-level executives, site selection consultants, commercial real estate professionals, and other influential decision makers, the EDC provides customized, confidential relocation services to domestic and international companies interested in growing within Hillsborough County. Locally, the EDC helps existing businesses access the tools and resources they need to succeed, now and in the future.