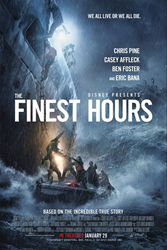 The USCG Auxiliary is a nationwide volunteer organization with 30,000 members serving our nation and our communities in 1,000 local units called Flotillas.
(PRWEB) January 27, 2016
Jim Lamb, USCG Auxiliary's Public Affairs Officer for Pompano Beach, issued a statement today advising that members of the USCG Auxiliary's District 7, Division 3 in South Florida will be greeting members of the Pompano Beach community this weekend each night from 5pm to 9pm at the premier of the Coast Guard-themed movie "The Finest Hours" at the Muvico Broward 18 theater located at 2315 N Federal Hwy, Pompano Beach, FL 33062.
According to Lamb, it has been more than 60 years since BM1 Bernard Webber and his all-volunteer crew of three ventured out over the Chatham, Massachusetts bar in a 36-foot wooden motorized lifeboat in 60-foot seas and 70-knot wind and rescued 32 crewmen from the stricken tank vessel Pendleton.
"This is a story of unparalleled heroism by a Coast Guard small boat crew who should be honored and remembered," Lamb said.
"The USCG Auxiliary is a nationwide volunteer organization with 30,000 members serving our nation and our communities in 1,000 local units called Flotillas," Lamb said. "We're proud to mingle with Coast Guard enthusiasts and help members of the community appreciate the mission of the US Coast Guard and US Coast Guard Auxiliary," Lamb added.
Lamb said USCG Auxiliary members will be on hand this weekend at the theater to help facilitate the recruitment of membership in the U.S. Coast Guard Auxiliary, Active Duty, and Reserves. Members intend to distribute literature and information on the Coast Guard's voluntary vessel safety checks, public education classes, and other Auxiliary programs.
ABOUT USCG AUX & FLOTILLAS 34/37
The United States Coast Guard Auxiliary is the volunteer, civilian arm of the United Stated Coast Guard. Our mission is to assist the United Stated Coast Guard by focusing on recreational boating safety. In essence we are your volunteer lifesavers. The four cornerstones of the Auxiliary are Member Services, Recreational Boating Safety, Operations and Marine Safety, and Fellowship.
See: https://www.uscg.mil/auxiliary/administration/aux-history.asp
Flotilla 34 is currently lead by Mr. Jack Doyle, Flotilla Commander and Mr. Bob Uleski, Vice Commander. Flotilla 37 is lead by Mr. Carlos M Arenas, Flotilla Commander and Mr. George Kozel, Vice Commander. Our flotillas perform many functions within the realm of boating safety, including, but not limited to: boating safety courses, complimentary vessel safety examinations, regular visits to marine dealers to promote boating safety, boating safety patrols and many community events to further educate the recreational boating public about safe boating. As a volunteer organization, we are not all work and no play. One of the cornerstones of the U.S. Coast Guard Auxiliary is fellowship. Our flotillas have a quarterly dining out event held at a different local restaurant where we have the opportunity to socialize and bring our guests to meet the members we serve with. In addition, we hold picnics and other social outings as well. If you would like to join the USCG Aux, please contact one of our public affairs officers.
Flotilla 34: http://wow.uscgaux.info/content.php?unit=070-03-04
Flotilla 37: http://aux37.org/
ABOUT USCG AUX PUBLIC AFFAIRS
Public Affairs Directorate Mission Statement
The Public Affairs Directorate engages and communicates with the public and stakeholder groups. It encompasses creative services, public affairs, publications, training and Web services. The Directorate serves the auxiliary and active duty Coast Guard by developing and distributing stories, photos and video to members, the public, and promotes a positive image of the United States Coast Guard. It reaches the right audience, with the right message, using the right communication tools, at the right time. It builds awareness, understanding, credibility, trust, and mutually beneficial relationships with external publics with whom the Auxiliary's success depends.