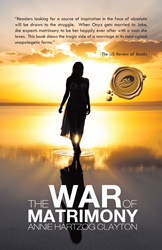 I insist on not letting anyone take over my life. Only God has that right.
LOS ANGELES (PRWEB) January 27, 2016
After 40 years of marriage to an abusive man, Annie Hartzog Clayton knew one thing: women should know that they are not alone in dealing with domestic abuse.
Thousands of women are affected by domestic violence every year and often feel like they have nowhere to turn. Clayton's agonizing marriage inspired her to write The War of Matrimony as a means of helping others suffering from domestic abuse.
"I have been through so much, I felt I had to release the pain," Clayton said. "I had to get it off my chest and help others who want to change their strategies in life."
The War of Matrimony chronicles one woman's struggle with her husband's mental illness and the resulting domestic abuse, all while raising five children and holding a job.
Clayton believes that people, specifically women, should be aware of the dangers of staying silent about domestic abuse and warns readers to not stay around and allow it to continue.
"I insist on not letting anyone take over my life," Clayton said. "Only God has that right."
The War of Matrimony
By Annie Hartzog Clayton
ISBN: 978-1-4907-2773-8
Available in softcover and e-book
Available on Amazon, Barnes & Noble and Trafford Publishing
About the author
Annie Hartzog Clayton is a retired employee of the California State Department, mother of five children and wife of 40 years. Clayton, also the author of the memoir Broken Wings, resides in Los Angeles with her family and spends her free time writing about her life, writing children's stories and partaking in community and family events.
For review copies or interview requests, contact:
Jade Schwarting
317.602.7137
jschwarting(at)bohlsengroup(dot)com