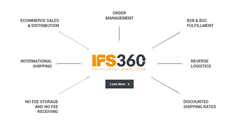 We are pulling together proven resources to help our clients save time, reduce costs, and drive revenue. If they grow, we grow.
(PRWEB) January 28, 2016
For the first time in history, 2015 Black Friday sales were higher online than in stores. With consumer shopping habits changing and e-commerce thriving, IFS360 is betting on e-commerce companies growing.
A fulfillment center based in Salt Lake City, IFS360 is basing its entire model on companies that primarily ship e-commerce orders. With a wide range of clients from small startups to billion dollar companies, IFS360 services clients across many industries including apparel, health and beauty, housewares, toy, gift, and electronics.
Recently named one of the fastest-growing companies in Utah, they are shipping 15x the volume they were a year ago and won't be slowing down anytime soon as they now have warehouses in California and North Carolina.
IFS360 brings value to B2C consumer product companies in several ways:

Simplified fulfillment pricing — Fulfillment centers typically charge account maintenance, integration fees, and monthly storage, through a confusing and expensive pricing structure. Most IFS360 customers simply pay a price per order and a price per unit.
Reduced shipping rates — IFS360 leverages the shipping volume from its sister company, Firstmile.com: one of the largest e-commerce shipping carriers in the country. This allows IFS360 to pass along rates that the client would never qualify for on their own.
Distribution — IFS360 is a vendor of record with major e-commerce retailers, which allows it to easily get its client's product into places they could not ordinarily get into on their own such as Wayfair.com, Overstock.com, Bluefly.com,TheGrommet.com, BedBathandBeyond.com, and Brookstone.com, etc.
Technology — IFS360 acquired NC-based Etail Fulfillment to access to an internally developed software called Shipedge, which integrates with a client's shopping cart and gives them real-time access to their inventory, prevents shipping errors, provides transparency on billing, and helps with projections.
In addition to the services already outlined, IFS360 has vetted a network of other companies to assist its clients with business services such as social media marketing, sourcing, PR, and SEO. According to IFS360 President, Ryan Treft, "We are pulling together proven resources to help our clients save time, reduce costs, and drive revenue. If they grow, we grow."