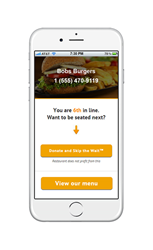 We are working closely with our partners to offer them a full end-to-end solution
New York, NY (PRWEB) January 26, 2016
PaidEasy, a leading mobile payments start up based in New York, today has announced the acquisition of SmartLine, a digital WaitList Management system and its proprietary feature, CharityWait. Terms of the deal have not yet been disclosed.
SmartLine (http://www.SmartLineApp.com), is a digital waitlist management application, that allows restaurants to alert their guests when their table is ready via text message. SmartLine is a replacement for the clunky, range-limited and germ-infested restaurant buzzer systems as well as the traditional pen and paper method. In addition, the software also lets restaurants send brief marketing messages along with a text to promote restaurant specials, appetizers or exclusive offers, as well as provide the restaurant information in terms of how quickly they are turning tables over and the frequency of returning guests.
CharityWait (http://www.CharitWait.org) is a proprietary feature of the SmartLine system allowing diners to skip to the front of the line at their favorite restaurants for what can be a nominal donation to the charity of the restaurant's choosing. Restaurants participating in CharityWait – which already include top restaurants names such as Kotobuki, Chez Lucienne, and Jado Sushi – do not monetarily profit from using the application. They do benefit by being socially conscious and supporting the causes they love while increasing revenue and better managing operations with SmartLine's digital waitlist management application. Restaurants have the ability to choose any 503c charity they like.
Gregg Jackowitz, Founder & CEO of PaidEasy says, "The acquisition of SmartLine will allow us to offer more services to our partners. Aside from just the mobile payments side of the business we are working closely with our partners to offer them a full end-to-end solution for the "walk-in" customer to capture them from discovering where to go, joining and even skipping the wait - to payment and re-engagement." Jackowitz also says that the acquisition of SmartLine is the first of many strategic plans the company has in store for 2016.
PaidEasy presently operates in over 100 establishments in the New York City area. With seamless integration into restaurants and bars point of sale systems, without the use of any hardware, PaidEasy allows its users to view, split, tip and pay their bills without having to wait.
Daniel Reitman, CEO and co-founder of Smartline said about the acquisition, "It has been an incredible journey growing SmartLine and CharityWait from just an idea to a reality and we are very excited to be passing the torch to our friends over at PaidEasy. I look forward to seeing what Gregg and his team are able to do with the Smartline System."
SmartLine currently operates in over 150 restaurants throughout 3 continents and will allow PaidEasy to expand to international markets.
PaidEasy will give users the ability to view wait times, join the wait remotely and be notified that their table is ready all via the PaidEasy consumer app in addition to offering the standard SmartLine text messages.