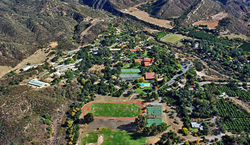 Our savings from solar are two fold – most of the money will go back into helping fund other sustainability projects, and other savings will also help improve our environmental and sustainable programs
Oaji, California (PRWEB) January 25, 2016
Sullivan Solar Power recently recently construction began for a solar power systems at the Thacher School, a 127-year-old boarding school in Ventura County. The private school selected San Diego-based Sullivan Solar Power to install a 676,139-watt solar powered system, which the Center for Sustainability Energy stated is one of the largest solar projects for a private school in the state. The solar project, Sullivan Solar Power's largest single site project to date, is paid for by the Thacher School's senior class gift as well as a donation from a foundation.
"The Thacher School is a leader in education and sustainability," said Daniel Sullivan, founder and president of Sullivan Solar Power, "Not only is this solar project the largest single site installation in the history of Sullivan Solar Power, but the project also aligns with our own company values in educating the community to change the way our world generate electricity."
The solar project will be an educational tool for the high school students at the Thacher School. They will be able to view the solar power system's live monitoring site and calculate data depending on weather, for example, as a part of their academic program.
"Per the Thacher School's goals, we wanted to use the solar system as a learning tool thereby integrating it with other sustainable exhibits we intend to demonstrate on site", said Jeff Smitley, the managing principal of Bold Rock Energy Group, the general contractor who selected Sullivan Solar Power for this project, "We chose Sullivan Solar Power because of their experience as well as price."
This ground-mounted solar system will annually offset 1.4 million pounds of carbon dioxide emitted into the atmosphere, which should assist the Thacher School in achieving the newest version of the world's premier benchmark for high-performance green buildings, Leadership in Energy & Environmental Design (LEED) certification. The school is using the solar array to help obtain the renewable energy production credit for a dining facility being built later this year, pursuing LEED version 4 Building Design and Construction Gold certification.
"We live in a place with so much sunshine where it makes sense to think about solar," said Ed Bennett, the director of facilities for the Thacher School, "We are looking at 81 percent electrical usage covered by our solar array, and more than a 35 percent greenhouse gas reduction."
The solar project is using 2,898 locally-manufactured Kyocera 265-watt solar panels and is expected to produce more than 1.2 million kilowatt-hours of clean energy each year.
"Our savings from solar are two fold – most of the money will go back into helping fund other sustainability projects," said Bennett. "Other savings will also help improve our environmental and sustainable programs."
The solar power system is a part of Southern California Edison's net energy metering program, where the school earns credits for the power they send back to the grid. While net metering is ending in California in the near future, the Thacher School is grandfathered into the current net metering program for 20 years.
For more information about the Thacher School, visit http://www.thacher.org. For additional details about solar power and net metering, visit http://www.SullivanSolarPower.com.
About the Thacher School
The Thacher School is a co-educational boarding high school (grades 9-12) located 85 miles northwest of Los Angeles, California. The School serves academically talented students who will benefit from a rigorous college preparatory experience. The faculty and students live and work closely together in a community in which cooperation, trust, honesty, and respect are the cornerstones of school life.
Together, we commit to the belief that demands in the academic classroom, when combined with those of mountains and horses, of sports and the arts, produce independent minds, strong bodies, and powerful character.
About Sullivan Solar Power
Sullivan Solar Power is a turnkey solar system provider that delivers solar electric projects from concept to completion. The company has installed more than 34,000,000 watts of solar power ranging from small-scale residential to large-scale commercial and municipal systems. Sullivan Solar Power was founded by Daniel Sullivan in 2004. Sullivan Solar Power has a longstanding A-plus rating with the Better Business Bureau, with no complaints filed since the business began. The firm has been named one of the fastest growing energy companies in the nation by Inc. Magazine and services all of Southern California. Regardless of project size and scope, Sullivan is committed to delivering the best products and the most qualified professionals to its customers. Visit http://www.sullivansolarpower.com for more information.