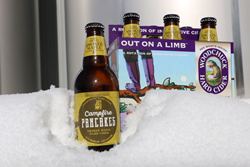 Middlebury, VT (PRWEB) January 26, 2016
In keeping with its focus on product innovation, Woodchuck Hard Cider has released Campfire Pancakes, the seventh installment in its popular Out on a Limb series. Campfire Pancakes will be available while supplies last until April 2016.
Campfire Pancakes embodies the Vermont spring season. With an infusion of smoked apple pomace and maple syrup, the small batch hard cider brings forward a delightfully smoky and sweet taste. Both Vermont made ingredients, the pomace is sourced from Vermont Smoke & Cure, and the syrup from a local sugarhouse. Campfire Pancakes (5.5% ABV) has a suggested retail six-pack price of $10.99.
"It was great working with local companies to produce yet another innovative batch of cider that we know our fans will love," said Cider Maker John Matson. "I kept getting hungry as it was blended and bottled, and the whole cidery smelled like a pancake breakfast," chimed in fellow Cider Maker Ben E. Calvi.
Introduced in 2014, Woodchuck's Out on a Limb® is an innovative series that rotates through the most creative and unique styles that come out of the cidery. While the six-pack container stays the same, the bottles change every 90 days to feature the newest cider variety.
Campfire Pancakes will be available in limited quantities nationwide through April. For more information or to request hi-res imagery, contact Caitlin Stroupe at cstroupe(at)vthardcider(dot)com or (802) 398-6958.
About Woodchuck® Hard Cider
Woodchuck Hard Cider introduced the U.S. to the craft cider category 25 years ago after it was first handcrafted in a 2-car garage in Proctorsville, Vermont. Staying true to its roots, Woodchuck is dedicated exclusively to cider making. In other words, we "Give a 'Chuck" about authenticity and handcrafting the best cider possible. Innovation is at the core of everything Woodchuck's cider makers do, which is why they continuously strive to create unique new ciders using the finest ingredients. That attention to detail has paid off and Woodchuck Hard Cider has recently received awards at the World Expo of Beer, The Great Lakes International Cider and Perry Competition and the New York International Beer Competition. For more information about Woodchuck Hard Cider visit http://www.woodchuck.com.