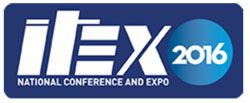 ITEX 2016's keynote lineup lives up to this promise by fostering a collegial exchange of research, best practices and peer-to-peer learning.
Weymouth, MA (PRWEB) January 26, 2016
ITEX National Conference and Expo, the office equipment and imaging channel's premier event, is pleased to announce its power house lineup of keynote speakers at the 2016 event taking place at the Broward County Convention Center in Fort Lauderdale, FL, Monday, March 7th through Wednesday, March 9th. Featuring two and a half days of information and education, coupled with an Executive Workshop, Expo Hall, and networking activities, attendees will learn how to advance, expand, and evolve their business in the face of a rapidly changing market.
Featured keynotes will be delivered by industry veteran thought-leaders including:
Cathy Lewis, Chief Marketing Officer & EVP, 3D Systems, "Manufacturing the Future." In Lewis's keynote she will address next generation 3D technologies and improved materials that are revolutionizing product strategies and business models with 3D printing in the form of mass customization and one-of-a-kind products, on demand. Cathy will assert that whether you believe 3D printing is hype or reality – she suggests you get in the game now, before your competitor's do, and begin to manufacture the future.
Laura Blackmer, SVP, Sales, Sharp Imaging and Information Systems of America, "Millennials and Diversity – Building a 2020 Workforce." In this keynote, Blackmer will address the massive shift our workforce is currently undergoing as aging baby boomers are retiring, more women than men are graduating from college and post graduate programs and technology has changed how Gen Y and Millennials work and expect to work. She will answer the questions of "Why should we care?" "Can we change?" and "How?"
InfoTrends and BLI industry analyst executives will deliver two keynotes based upon industry research, forecast and market trends analysis, as well as extensive survey and interview work:
Jeff Hayes, Managing Director of Content, "US Office Technology Outlook." In his keynote session, Hayes will provide a state of the industry review of market trends and the office technology channel including insights from extensive interviews with dealers. He will provide recommendations to help you evolve your business model and engage with your customers to achieve sustained growth.
David Ramos, Director of Channel Strategy, "State of the Independent Office Equipment Dealer Channel." In Ramos's keynote he will provide an in-depth breakdown of the topics driving change across the independent dealer channel landscape backed by key findings from his 2016 national dealer survey. In addition, he will further explore today's leading sales and marketing practices and overall business challenges.
According to Jon Reardon, Group Director at InfoTrends and ITEX Conference Chair, "Keynote addresses are normally designed to set the underlying tone and summarize the core message of an event. ITEX 2016's keynote lineup lives up to this promise by fostering a collegial exchange of research, best practices and peer-to-peer learning. ITEX 2016 departs from its past as the conference features a total of four presentations. This sounds like a lot, but with this power house lineup, you'll understand why my conference team journeyed down this path."
In addition to the keynote sessions, ITEX will offer attendees 30+ conference sessions on tracks covering the areas of Print & Managed Services, Workflow & Solutions, Sales & Marketing, and Data-Driven Business.
Attendee registration is open for the 2016 event at http://www.itexshow.com and exhibitor sign up is available by contacting Alexandra Piccirilli, 781.616.2167 or apiccirilli(at)infotrends(dot)com. For more information about the ITEX Conference agenda, Executive Workshop, or networking opportunities please visit http://www.itexshow.com.
Produced and Managed By:
ITEX National Conference and Expo is the premier event for the office solutions channel. The event is produced and managed by InfoTrends, the leading worldwide market research and strategic consulting form for the digital imaging and document solutions industry, headquartered in Weymouth, MA. ITEX is co-presented by imageSource, the definitive resource for the office channel. For the latest event updates follow us on Twitter @itex_show.
For further information, contact:
Sally Miller
Marketing Manager
781-616-2145
sally(dot)miller(at)infotrends(dot)com