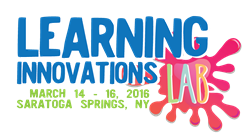 I am deeply excited to bring together a small group of learning colleagues from around the world – at all levels of experience – to collectively explore existing, changing and radically new learning models and technologies. - Elliott Masie
Saratoga Springs, NY (PRWEB) January 25, 2016
Elliott Masie has announced a new Learning Innovations LAB to be held at The MASIE Center in Saratoga Springs, NY, from March 14-16, 2016. Learning Apps, Learning Personalization, User Content, Virtual Reality and Gamification are just some of the hands-on explorations planned for a small group of learning colleagues in a 2 ½ day intensive exploration and lab experience at the 10,000 square foot MASIE Learning LAB in Saratoga Springs.
A January Learning Innovations LAB was filled and included participants from General Electric, Naval War College, MasterCard, PwC, Owens Corning and Lear.
"The Learning Innovations LAB is a great opportunity to S T R E T C H our boundaries as learning professionals and innovators," says Masie. "I am deeply excited to bring together a small group of learning colleagues from around the world – at all levels of experience – to collectively explore existing, changing and radically new learning models and technologies. This is a LAB where we will experiment collaboratively."
Learning colleagues from around the world will gather together to experiment with a wide range of Learning Innovations including: Learning Apps, Mobile Video, Curated Content, Connected Classrooms, Virtual Reality, Assessment and Coaching Tech, and much more. Participants will explore innovations from other markets, including Khan Academy, TED, SkypeTX and more. They will have a very hands-on experience with a non-technical "Learn-A-Thon" innovations model and will return to the workplace with new ideas and emerging ideas for learners and the organization.
Lab topics will include:

Learning "Apps"
Learning Personalization
"Search" & Learning
Mobile Learning Models – Mobility & Performance
Big Data & Metrics for Innovation
Gamification & Engagement for Learning
Video: Fast, Short, Targeted, User-Created, Open, Digital Studios
Wearables, Sensing & Aware Technology
Performance Support Technologies
LMS, LCMS & Learning Systems Refreshed
ReDesigning Boring Webinars
Elliott Masie will facilitate a LAB experience for the participants in this vendor-neutral program that will mix:
Hands-On Work and Exploration with Learning Innovations
Models and Hurdles for Leveraging Innovations
Video Visits with Field Experts & Working Examples
Experiments and Assignments to Experience and Apply
"Take Home" Resources and Assets to Share with Colleagues
Registration is open and Group Discounts are now available. Content and online registration available at http://www.masie.com.
The MASIE Center is an international Learning LAB and research center working with Global Organizations. For more information, please visit http://www.masie.com