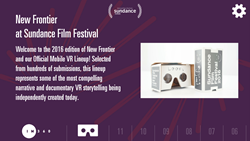 Los Angeles, CA (PRWEB) January 26, 2016
IM360, the leader in immersive and interactive content solutions, has teamed up with Sundance Institute, a champion and curator of independent stories for the stage and screen, to power Sundance VR, the official VR app for Sundance Institute's New Frontier program. An initiative created to identify and foster independent artists working at the convergence of film, art, media, live performance, music and technology, New Frontier began in 2007 and introduced virtual reality to the film world in 2012. IM360 is an official Alliance Supporter of the New Frontier 10th Anniversary, and this year's New Frontier program features immersive cinematic works and virtual reality experiences from both emerging and established creators. Sundance VR, custom-built by IM360, is available as a free download on Android smartphones and tablets, with an iOS version slated for release later this year.
"Sundance Institute is a renowned organization in entertainment, and we're honored to bring the spirit and innovation of its New Frontier initiative to a global audience and showcase storytelling through a new medium," said Richard Ngo-Tran, Vice President of Marketing for IM360. "As VR takes its place alongside film and television, virtual technologies like the New Frontier app will create immersive experiences in entertainment that have never been seen before."
Sundance VR will feature a number of the revolutionary projects, including Randal Kleiser's DEFROST, produced by IM360, as well as a host of other VR films and experiences. The app will also house additional content for the 10th Anniversary New Frontier program, Slithering Screens, slated for exhibition at the Museum of Modern Art in New York City in April, as well as the New Frontier VR celebration with Walker Art Center in Minneapolis as part of Northern Spark in June.
Download Sundance VR and learn more at this link.
About IM360
IM360 is the foremost provider of immersive and interactive content solutions. Combining the creative genius of Digital Domain, an Academy Award®-winning digital visual effects studio, and the power of Immersive Media, the leading provider of patented 360° immersive technology, IM360 is pioneering immersive video and virtual reality programming. From cinematic VR and 360° video, advanced VFX and virtual humans, live VR broadcasts and immersive experiences to digital platforms and distribution, IM360 delivers what creative minds can imagine. IM360 is a Digital Domain company.