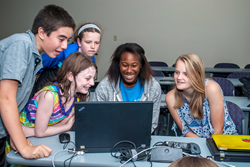 Atlanta, Georgia (PRWEB) January 26, 2016
"We are very excited to be moving our summer camp to Georgia Tech, a national and international leader in scientific and technological education and research." said Craig Whiting, President of Emagination. "The location is very convenient for day camp families and for out of state campers flying into Atlanta."
On Georgia Tech's 300-acre campus, Emagination will hold its technology workshops and house overnight campers in a dedicated building that is conveniently accessed from Interstate 75/85 and is a short drive from Hartsfield-Jackson International Airport. Recreation will take place on a nearby field and a new dining facility for camper meals is just steps away.
Emagination will operate both its Computer Camp program for children ages 8 - 17 as well as its Emagination Game Design program for teens ages 15 – 18. Emagination's programs serve campers from Georgia, states throughout the Southeast and several foreign countries.
Emagination's Computer Camp program blends technology learning with fun summer camp activities to create a well-rounded summer camp experience. Campers learn 21st century technology skills while also developing valuable social and life skills through recreation workshops and traditional summer camp activities.
The computer camp offers more than 25 technology workshops including Virtual Reality, 3D Animation, Web Design, Video Game Design, Coding, Minecraft, Robotics, CAD, App Design and more.
Campers come for two-week sessions as day or overnight campers. They choose three technology workshops plus a recreation activity. A Talent Show, a day of games on Saturday and an evening program of recreation and technology help create a well-rounded summer camp experience.
Also offered at Georgia Tech is Emagination Game Design, an immersive STEM program for teens ages 15 – 18 who have an interest in learning how video games are designed and developed.
Teens learn key technical and creative components of video game design, including level design and function, the creation of 3D characters, lighting, sound effects, and programming. Working in teams they build a playable video game that is presented to a panel of industry experts on the last day of camp. The program also includes a tour of a professional game design studio and guest speakers who come to campus.
Prior to its move to Georgia Tech, Emagination operated for 10 years at Mercer University in Northeast Atlanta.
For more information about Emagination Computer Camps and Emagination Game Design, visit http://www.computercamps.com.