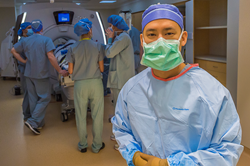 "I think this is a real step forward to medical care in the Midwest," - Dr. Andrew Tsung, INI Brain Tumor Center Director
Peoria, IL (PRWEB) January 25, 2016
The team at the Illinois Neurological Institute Brain Tumor Center (INI) at OSF Saint Francis Medical Center in Peoria took a giant step forward in its mission to provide state-of-the-art medical care to patients in the Midwest.
On Monday, January 18, a team of nearly 20 INI physicians and support staff used an Intraoperative MRI Operating Suite, or iMRI, to complete a successful frontotemporal supratentorial craniotomy for tumor resection on a 27-year-old Canton, IL man with a cancer recurrence.
The iMRI is the first in central Illinois and only the second in the state.
INI Brain Tumor Center Director Dr. Andrew Tsung is pleased with the inaugural iMRI surgery, which lasted approximately 7 hours. "It vindicates our ability to come together as a team and complete an enormously complex task from conception to implementation - and furthermore on the first patient without a single technical complication." The patient was discharged from OSF Saint Francis Medical Center just three days after surgery.
The iMRI is a unique set-up that melds the sterile environment of an operating room with the imaging technology of an MRI machine. It allows neurosurgeons the ability to scan patients during surgery and see a detailed image of their progress in real time.
The high resolution scans allow neurosurgeons to distinguish between tumor tissue and normal tissue, minimize the disturbance of healthy tissue, and adjust surgical plans based on their findings. Dr. Tsung says the technology paid off on day one.
"The iMRI allowed us to see a small cubic centimeter residual tumor against the brainstem. We then were able to remove this residual cancer prior to closure, allowing a more complete resection adjacent to dangerous areas while preserving normal brain function."
This unique ability means fewer repeat surgeries, which has the potential to drastically improve patient outcomes.
"Normally patients would have their surgery done with maybe a scan beforehand, you take a guess of how much you've removed of the cancer or tumor, and then you close the patient up. After a period of time they get another scan," said Dr. Tsung. "Now it's a streamlined process. We don't even have to undrape the patient. The patient remains sterile, the brain remains open as we run them through the scanner and we roll them back out. So we're pretty much able to make it as efficient as possible."
The iMRI will be phased in to the INI surgical rotation, and will be used on patients selected in a case-by-case basis.
"I'm very excited. I think this is a real step forward to medical care in the Midwest," said Dr. Tsung. "I think it's unique anywhere. Not just for OSF, not just for Illinois, but it's very unique everywhere to have this type of setup. To have the support from the physician side, from the hospital's side, where we can provide the service."
The Illinois Neurological Institute is a leader in the Midwest in caring for patients with the most complex neurological conditions. INI provides access to the specialized neurological care patients need through disease-specific focused areas, encouraging multiple specialists to work together to provide patients with the very best neurological care.