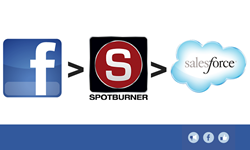 "Basically, our clients just tell us how many people they want to reach, and we dial things up or down accordingly."
Westlake Village, CA (PRWEB) January 28, 2016
Spotburner has introduced a new digital marketing program designed to generate high-quality leads quickly and inexpensively.
"We start with geotargeting," said Spotburner President, Bob Bekian. "Our clients select the exact locations they want to pinpoint. Next, we identify the demographic and psychographic criteria to target. Once we know the budget we have to work with, we can use the Facebook algorithm to determine reach."
If clients want more impressions than the defined targeting strategy will produce, Spotburner can extend reach by using Facebook's Audience Network platform to display ads on partner sites that would be of interest to our targets.
"When someone clicks on an ad, a form appears," Bekian continued. "This can either be a landing page on our client's site or we can host it at Spotburner. Either way, when the prospect completes the form, the information is automatically transferred into Salesforce.com or a number of other CRMs and the lead becomes immediately available to the client."
The system also lets Spotburner provide their clients with robust analytics in real time. "We can identify the demographic characteristics of those who click through the ads. As a result, we can continuously optimize campaign performance." This constant monitoring of performance allows the team at Spotburner to increase the ROI and lead conversions for their clients throughout each campaign.
"Basically, our clients just tell us how many people they want to reach, and we dial things up or down accordingly."
According to Bekian, the best thing about the program is that it delivers better ROI than many other marketing campaigns. "By combining the targeting power of Facebook with the CRM capabilities of Salesforce.com, we're able to provide incredible value to our clients."
A recent Spotburner-produced campaign resulted in 26,488 impressions, 560 clicks, and 14 form completions in a week. "Our client generated over $40,000 in business that week with a $500 spend."
Spotburner specializes in creating integrated marketing solutions for healthcare/pharma, renewable energy, automotive, retail, and manufacturing companies. Their client list includes Amgen, Hospital Corporation of America, Hormel Foods, Acura, and LA Solar Group.
For more information, contact Bob Bekian at (818) 483-1385