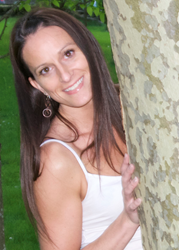 I am truly passionate about MaskIT and am thrilled to have been nominated for innovation and brand building!
Ashland, OR (PRWEB) January 26, 2016
Shallan Ramsey of MaskIT LLC, a woman owned, Ashland, Oregon based company, has been named to Axial's Growth 100, a list of the best and brightest middle market CEOs across industry. The recognition came in time to celebrate the second annual Middle Market Monday, a day that recognizes the accomplishments of CEOs and owners of U.S. middle market businesses.
"I feel very honored to be recognized on this level and to be named on Axial's Growth 100 list amongst other impressive entrepreneurs. I am truly passionate about MaskIT and am thrilled to have been nominated for innovation and brand building!" said Shallan Ramsey, Founder and CEO of MaskIT LLC.
It was late 2012 when Shallan Ramsey had a profound epiphany, sparked by her teenage daughters, that would lead to the creation of the MaskIT pouch and the beginning of her entrepreneurial journey. She was perplexed by the realization that there has never been an easy, discreet or sanitary way for women to dispose of used feminine hygiene items. Shallan conceived an idea for a practical solution that not only fills an obvious gap in the marketplace, but could also revolutionize the way women deal with this part of the menstrual process. The MaskIT products were launched in late 2014 and just one year post launch, the company has gained national retail distribution, accrued a substantial social media following, and won a national entrepreneurial competition.
Click here to check out Axial's Growth 100 List
"Once a year, we take time to acknowledge and celebrate the leaders who are responsible for driving the growth and innovation in the American middle market," said Peter Lehrman, founder and CEO of Axial. "This group of CEOs should be recognized for their many important accomplishments; we are honored that they have chosen Axial's platform to help them find the resources and capital they need to set their courses for 2016 and beyond."
Every year, Axial, the online network connecting private companies to capital, celebrates middle market businesses on Middle Market Monday. As part of the 2016 celebration, the company compiled a list of the 100 most interesting CEOs in the middle market based on nominations from Axial's 22,000+ member base, particularly from capital providers and advisors who partner with CEOs looking to grow or sell their businesses. Additionally, nominations were also received from chambers of commerce and other industry associations. CEOs were nominated across several categories including Innovation, Brand-building, Leadership Style, Customer Experience, Thought Leadership, Company Culture, and Growth Strategy. Find the full Growth 100 list at madeinthemiddle.axial.net.
About MaskIT
MaskIT LLC, (http://www.MaskIT.us) manufactures an innovative, patent pending product for menstruating women. The MaskIT pouch offers the first practical, sanitary, discreet and earth friendly method of disposal for used feminine hygiene items. It's unique design allows for a puppet functionality and provides a designated pocket area for soiled items. The pouch is then simply inverted and sealed. The certified compostable biofilm used to create the pouch blocks odor and will not leak. MaskIT is available on amazon.com, the drugstore.com™and retailers nationwide. See http://www.MaskIT.us to find a retail location near you.
About Axial
Axial (http://www.axial.net) is the largest online network connecting professionals who run, advise, finance, and acquire private companies, with over 50 transactions closing monthly. Every week, over 200 private companies use Axial to confidentially explore and initiate a financial transaction. Headquartered in New York, Axial is backed by First Round, Redpoint Ventures and Comcast Ventures.
Contacts:
For MaskIT LLC
Shallan Ramsey
650-516-8423
shallanramsey(at)maskit(dot)us
For Axial
Randi Haney
212-279-3115 x141
rhaney(at)prosek(dot)com