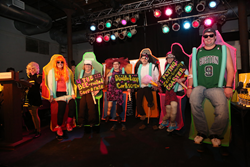 This year's Spelling Bee will be held Thursday, March 3, 2015 at Wooly's, 504 E. Locust Street in Des Moines
Des Moines, IA (PRWEB) January 27, 2016
Orchard Place, mental health experts for Iowa's children, is proud to announce that the 13th annual Spelling Bee will be held Thursday March 3rd. Nationwide Insurance has been named as the Presenting Sponsor of the event.
The Orchard Place Spelling Bee is a one of a kind event where participants either spell a word correctly or bribe judges to proceed to the next round. Last year's champions, a Nationwide team named 'O BEE Wan Kono BEE', took the title of this zany contest by correctly spelling the winning word—epexegesis, a noun meaning the addition of words to clarify meaning.
Proceeds from the past 12 years have totaled more than $895,000. Funds go directly to support more than 10,000 Iowa children and their families with mental health issues served by Orchard Place.
"Orchard Place is extremely grateful for the continued community support," said Nancy Bobo Vice President of Development at Orchard Place. "Each year's event has not only been fun, but has provided funding to help 75,000 children during its history."
This year's Spelling Bee will be held Thursday, March 3, 2015 at Wooly's, 504 E. Locust Street in Des Moines from 5:30 to 8:30 pm.
Prizes are awarded to teams that have the most creative team name, best team costumes, best team cheering section, and most bribe money raised. Competition is fierce and typically hilarious.
Registration for the event is now open. As an extremely competitive event, teams generally register early. "It's hard to describe how much fun everyone has both onstage and off," added Bobo. Whether you come as part of a team to spell or as an individual to watch, she advises people to come ready to have fun for a good cause.
Registration and event information is available online at: http://www.orchardplace.org/events. To register a team, contact Brandi Broadhead at bbroadhead(at)orchardplace(dot)org.
About Orchard Place:
Orchard Place is Des Moines' oldest charity providing mental health treatment and expertise serving Iowa's kids. Our inpatient, outpatient and community programs annually serve more than 10,000 children each year from birth to age 22. Four operating divisions are included in the Orchard Place umbrella of services: Child Guidance Center, Orchard Place Campus, PACE Juvenile Center and the Integrated Health Program. More information can be found at http://www.orchardplace.org.