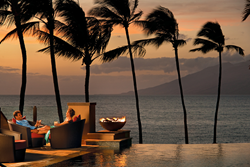 "The best keeps getting better at Four Seasons Resort Maui," says its General Manager Jean Claude Wietzel.
Wailea, Maui HI (PRWEB) January 26, 2016
Four Seasons Resort Maui, the island's only Forbes five-star resort, prides itself on providing its loyal guests with the highest level of service and creating vacation memories that last a lifetime. To celebrate and commemorate the luxury Resort's 25th anniversary, the Resort is asking Four Seasons current and former guests, employees and managers to contribute written memories, photographs and other memorabilia to place in a time capsule that will be buried at a ceremony on February 29, 2016. A garden setting adjacent to the iconic Fountain Pool has been selected and the site will be marked by a plaque. The Time Capsule is slated to be opened at the Resort's 50th anniversary in 2041.
"The best keeps getting better at Four Seasons Resort Maui," says its General Manager Jean Claude Wietzel. Over the past quarter century, the Resort has always retained its focus on creating a luxury experience and its five-star status, even as the country has undergone economic, political and social changes. "We pride ourselves in leading our managers and staff to continually innovate and evolve," Wietzel adds pointing out dramatic and highly acclaimed recent changes including the complete renovations of the two presidential suites, the largest suites in Maui; the introduction of Unforgettable Events and Experiences and a remake of the signature Fountain Pool and cabanas.
Looking back, he notes that when the resort opened there was a disco, a health club, and the pool staff wore jackets and ties. "Can you imagine formal wear poolside in Maui?" quips Wietzel. Looking forward, he says he will have a major announcement later this year that will further evolve and transform the guest experience.
Predictions about the future from guests and employees will be the most fun to read. In 2041, will there be flying cars? Will the resort be under a protective utopian bubble? The Resort is inviting those making submissions to let their imaginations run wild, likely to both amuse and inform those who open the time capsule.
The Resort is creating a "Day in the Life at Four Seasons Resort Maui," with on-site photo ambassador, Scott Miles, known as Mr. Smiles, capturing memorable images of the people, the place, the pleasures – from sun-up to sun-down – with all photographs compiled as part of the 25th anniversary commemoration.
The Resort is reaching out to everyone who has been a guest to submit their memories by February 20 in three distinct categories: memories of the past 25 years, the Resort present day, and predictions for the future. All submissions can be mailed to the Marketing Department, Four Seasons Resort Maui at Wailea, 3900 Wailea Alanui Drive, Wailea, Maui, Hawaii 96753 or e-mailed to Crissa.Hiranaga(at)fourseasons.com. Submissions should include full name, address and e-mail contact information.
The memories are going to be compiled in a Memory Book and placed in a hermetically sealed metal container along with other collected items of memorabilia. The Resort is also including stunning photography taken of the Resort and a video featuring all past general managers discussing the last 25 years and what the future holds for Four Seasons Resort Maui.
About Four Seasons Resort Maui: Maui's first and only Forbes Five-Star resort is nestled on 15 acres of the breathtaking Wailea Coast. The 380-room oceanfront property is world-renowned for its comfortable opulence, impeccable service, luxurious amenities and for living in harmony with its environment and community. A TripAdvisor Certificate of Excellence Hall of Famer, the resort in Maui is also home to one of the nation's top-rated spas committed to wellness and three of Hawaii's most acclaimed restaurants—Ferraro's Bar e Ristorante, Spago Maui and DUO, a premium steak and seafood restaurant. This sophisticated home away from home caters to the needs and interests of all generations—offering world-class activities with no Resort fee and one-of-a-kind Unforgettable Events, a museum quality art collection, three pools overlooking the azure-blue Pacific Ocean including an adults-only Serenity Pool with exclusive Missoni-designed cabanas, and more. Four Seasons Resort Maui is a Hawaiian vacation destination geared to action adventurers, those guests wishing to practice the fine art of doing nothing at all, and everyone in between.
Media Contact: Charlotte Novom | Novom Marketing, Inc. | 714.941.9799