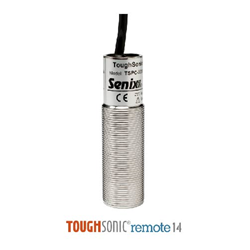 We engineered our new remote sensors to provide an extra measure of survivability in harsh climates.
Hinesburg, Vermont (PRWEB) February 02, 2016
Senix Corporation, manufacturer of ToughSonic® ultrasonic level and distance sensors, today introduced the ToughSonic remote 14, the first in a series of ultrasonic water level sensors designed for remote monitoring applications.
The ToughSonic remote 14 is an all-digital, surge-protected, lower energy-consumption version of the venerable ToughSonic 14, already one of the most popular remote water level sensors in the world. This stainless steel, IP68-rated sensor stands up to rain, saltwater spray and even total immersion. And it is fully configurable using SenixVIEW configuration and analysis software.
Lightning resistance has been upgraded with protection 75% stronger than CE EMC requirements. ToughSonic remote 14 sensors will continue to operate even after being subjected to repeated 7 kilovolt transients. "We have customers deploying water level monitoring stations in some of the most lightning-prone areas of the world." Says Doug Boehm, founder and CTO of Senix. "We engineered our new remote sensors to provide an extra measure of survivability."
The ToughSonic remote 14 addresses other remote monitoring requirements, as well. An all-digital sensor using serial data communications with Modbus or ASCII protocols, the ToughSonic remote 14 offers direct digital communication with data collection and networking devices. It powers up in less than one second and uses up to 21% less energy – important when sensors are powered by solar panels and batteries. "Water management companies are investing heavily in automation. Irrigation automation has been especially strong." says Doug Boehm. "Our remote monitoring customers need a rugged, energy efficient, all-digital sensor that they can rely on. We built the ToughSonic remote 14 for them."
About Senix Corporation
Senix designs and manufactures advanced ultrasonic sensors for liquid level measurement, distance measurement and object detection. Senix ToughSonic® sensors are used in a wide range of automation and research applications worldwide. The company transformed non-contact distance measurement in 1990 with the world's first computer-configurable ultrasonic sensor, and has been pushing the boundaries of sensor intelligence and ruggedness ever since. Senix Corporation is a privately held company located in Hinesburg, VT, USA.