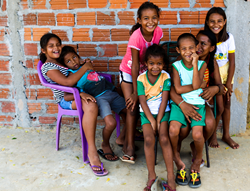 [ACT for Compassion] is a more personal way of asking your friends or family to get involved in something you love.
COLORADO SPRINGS, Colo. (PRWEB) January 26, 2016
This week, Compassion International, the world's fastest-growing Christian child development organization, launched a new peer-to-peer fundraising web site, ACT for Compassion. The site enables the ministry's nearly 1 million supporters in the U.S. to manage their own personalized fundraising campaigns.
ACT For Compassion (actforcompassion.com) provides users with the resources and platform to build, manage and promote their own fundraising campaigns. The site launch is aimed at raising funds for the ministry's work in Brazil. The money raised will provide clean water, and medical and educational needs for children enrolled in Compassion's holistic child development programs in the South American country. Future updates to the website will allow users to build their own campaigns that link caring sponsors with children in poverty through Compassion's Child Sponsorship Program.
The site, which currently features the stories of three children in Brazil, provides users with creative fundraising ideas, and allows them to set their own campaign goals and track their fundraising success along the way. They can also volunteer for Compassion-sponsored events, such as concerts or church events, in their community and across the U.S.
"Our supporters have been anxiously awaiting an opportunity like ACT for Compassion," said Mike Lenda, Compassion's national director for mobilization and engagement. "It's a more personal way of asking your friends or family to get involved in something you love. You can hold a fundraiser for your birthday party in lieu of gifts, or showcase a special talent or creative skill. The possibilities are limited only by the imaginations of the site's users."
About Compassion International
Compassion International is the world's leading authority in holistic child development through sponsorship. Compassion revolutionized the fight against global poverty by working exclusively with the Church to release children from poverty so that they may become responsible, fulfilled Christian adults. It is the only child sponsorship program to be validated through independent, empirical research. Compassion partners with more than 6,900 churches in 26 countries to release over 1.7 million babies, children and young adults from poverty in Jesus' name. Compassion has been awarded the highest rating for financial stewardship and transparency for 14 consecutive years by Charity Navigator, America's largest charity evaluator. For more information on the ministry, visit compassion.com or follow them on Twitter at @compassion.
# # #