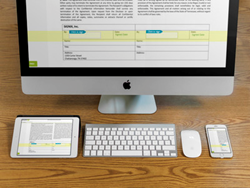 Our integration with SIGNiX gives customers the software benefits of multiple vendors without the hassle of working through many different companies.
CHATTANOOGA,Tenn. (PRWEB) January 26, 2016
SIGNiX, the leading provider of cloud-based Independent E-Signature™ solutions, announced today that it has partnered with New Jersey-based Micro Strategies, Inc., a business technology firm providing software and hardware system integrations to improve business processes and results for companies around the world.
Micro Strategies is a leading value-added reseller (VAR) for Alfresco, a cloud-based Enterprise Content Management (ECM) software built on open standards. As an initial component of the partnership, Micro Strategies has integrated the SIGNiX patented cloud-based Independent E-Signature™ solution with Alfresco Activiti, an enterprise Business Process Management (BPM) solution.
The integration of the two platforms allows business processes—such as invoice payments and contract approvals—to automatically move through an organization within a digital workflow and become immediately finalized with secure, compliant Independent E-Signatures™.
"Our integration with SIGNiX gives customers the software benefits of multiple vendors without the hassle of working through many different companies," said Adam Storch, Vice President Business Solutions at Micro Strategies. "There's one bill to pay, one point of contact, one user interface and one unified strategy. It's the easiest and most efficient way for our customers to deploy e-signatures and build a seamless system to keep their business processes moving."
Because SIGNiX's Independent E-Signatures™ are based on international, published standards and their legal evidence is permanently embedded into the signed documents using public key infrastructure, the e-signatures remain valid forever—and there's no reliance on SIGNiX to prove that validity. Users can verify e-signatures through any free PDF viewer, even offline.
SIGNiX's solution deploys the highest levels of identity authentication and encryption, comprehensive audit trails and tamper-evident technology to assure the safety and security of e-signatures and e-signed documents.
"Our customers work in the financial services, life sciences, government and healthcare industries, among others. So when looking at e-signature providers, we valued security, permanence and customization above all else. SIGNiX exceeded our expectations with all three," added Storch.
"At SIGNiX, we're committed to a partner-centric philosophy. That is, we listen to our partners, and we collaborate with them throughout our integration process so their customers receive the exact e-signature platform they need," said Jay Jumper, CEO of SIGNiX. "We're thrilled we were able to do that with Micro Strategies, and we look forward to building a long-lasting relationship and expanding SIGNiX integration possibilities into other Micro Strategies supported software applications."
About SIGNiX: 
SIGNiX, the most trusted name in Independent E-Signatures™, makes signing documents online safe and secure with comprehensive legal evidence permanently embedded in each document to eliminate any dependence upon SIGNiX. The company's cloud-based service uses patented technology to give businesses and organizations the most secure and legally defensible e-signatures available at a fraction of the cost of wet ink signatures. SIGNiX's products help the world's leading companies become more efficient, decrease risk and boost profits. For more information, visit http://www.signix.com. You can also follow SIGNiX on Twitter @signixsolutions, LinkedIn, Facebook and Instagram.
About Micro Strategies: 
Leveraging extensive business, process and IT expertise, Micro Strategies utilizes technology to deliver business results. Its consultative and customer-centric approach allows the tailoring of end-to-end solutions, from infrastructure to line-of-business software, for organizations across a range of industries. To learn more visit Micro Strategies online at http://www.microstrat.com.