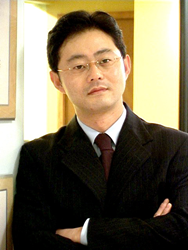 New York, NY (PRWEB) January 25, 2016
People who suffer from tooth decay, gum disease or tooth pulp infections can now visit Dr. Jong Wook Kim for an alternative to conventional invasive treatments. Dr. Kim is a dentist in New York, NY, who uses the BIOLASE WaterLase iPlus 2.0™ laser to correct various oral health problems with minimal trauma. This laser, which cuts through hard or soft tissue by exciting internal water molecules, promises both precision and convenience for patients.
The BIOLASE WaterLase iPlus 2.0™ laser, which combines laser energy and a constant spray of water, offers various medical benefits. The laser lets Dr. Kim operate with enhanced accuracy, so patients do not lose healthy tooth or gum tissue during cavity removal or periodontal disease treatment. This tissue preservation can help reduce the risk of future infections and associated visits to a dentist in New York, NY. The stream of water, which mitigates friction and heat, lowers the risk of issues such as tooth cracking during cavity removal or root canal therapy. The sterilizing effects of the laser also help prevent post-surgical infections or delays in healing.
The BIOLASE WaterLase iPlus 2.0™ also offers a few advantages that appeal to people who might otherwise delay seeking treatment from a dentist in New York, NY. Typically, procedures with this dental laser do not necessitate anesthesia because the laser uses short pulses that terminate before the body registers pain. The continuous water stream also decreases tissue irritation, so patients experience less swelling and discomfort after treatment. Dr. Kim can also perform many laser dentistry procedures more efficiently than traditional procedures, increasing convenience for patients.
People who are interested in learning more about treatment with BIOLASE WaterLase technology are encouraged to contact Dr. Kim's office. Patients also are welcome to schedule appointments by calling Dr. Kim's office or visiting his website.
About the Doctor
Dr. Jong Wook Kim is a general dentist offering personalized dental care for patients in New York, NY. Dr. Kim and his team provide a wide range of services and are committed to high quality, professional care through the use of laser dentistry and other advanced techniques. To learn more about the services offered by Dr. Kim, please visit his website at http://www.joeundental.com or call (347) 632-8896 to schedule an appointment.